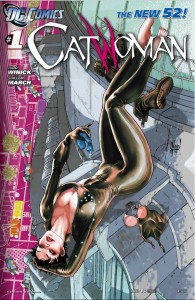 EDITOR'S NOTE: This review contains spoilers… although it would be hard to ruin it any worse than it already is.
When I was in high school, in those dark days before even the first Tim Burton Batman movie was released, it was hard to be a Batman fan. Based upon the fact that Batman lived with a prepubescent boy, I found myself spending an inordinate amount of time, time that I could have spent attempting to convince girls that reading Batman didn't make me unfuckable,  instead defending the character as a heterosexual gynephile, based purely on implied attraction between Batman and Catwoman, including sidelong glances, near kisses, and vague double entendre.
You damn spoiled rotten kids today, what with your Anne Hathaway, and your slashfic, and your Catwoman #1.
Seriously: check this shit out: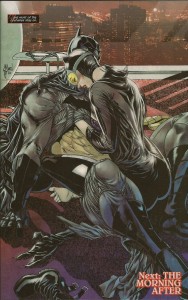 Yep. That is Batman doing the horizontal Batusi with Catwoman. Showing Catwoman his "Oh, Oh, Oh Father I Shall BeCOOOOOME A Bat" face. Giving Catwoman the Daddy Needs a New Boy Wonder Slam. Or most accurately, turning 70 years of implied sexual tension into a pedestrian sticky crotch stain by pulling a Moonlighing, provided that in Moonlighting David had cornholed Maddie before the pilot's first commercial break.
I can only imagine that writer Judd Winick, who is generally a solid writer (Except when he's writing Barry Ween, when he is a fucking GENIUS writer), intended for this moment to tell us something about the newly-rebooted character of Selina Kyle, and hopefully something beyond the obvious lesson of "Catwoman LOVES the cock." If that was his intention, I believe he failed, although I DID learn something about the newly-rebooted Batman: for an urban vigilante, he seems to leave his groin WOEFULLY unprotected.
Yeah, there were twenty-something pages of story before this sequence, but it's not like they stick to the brain of this member of the first VHS home porno flick generation. As far as I'm concerned, if the story ended in a hot fuck scene? It probably started when Batman showed up unexpectedly to fix Catwoman's dishwasher, or hook up her cable or DEEERRRRRPPPPP, okay time to rewind before Mom gets home.
Seriously: if there's a story here, Winick and artist Guillem March don't want me to remember it. The first panel of the book is a shot of Catwoman's tits in a red bra. March gives me five titty shots and one ass angle before we see the main character's eyes. Granted, the man draws a good cheesecake pinup, but when the writer and the artist CLEARLY don't care about Catwoman beyond the jack-off parts, why the fuck should I?
Seriously: you want a recap of the story here? Fine: tits, tits, boobs, tits, cats, ass, boom, lesbian, disguise, knockers, beating, stealing, fucking Batman. I just saved you three bucks. You're welcome.
This isn't a comic book, it's cartoon porn for guys too intimidated to go into the back of the video store to rent Who Framed Roger Rabbit.
Skip it and buy Barry Ween: Boy Genius. Send Winick a message.