Getting Some Strange: The Defenders #1 Review
on
December 9, 2011
at
9:10 pm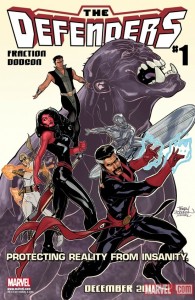 In a sentence, The Defenders is Matt Fraction trying to write Warren Ellis's Nextwave.  Nextwave was some of the biggest, purest, dumbest comics fun I've see in years before or since, so there are worse things to aspire to.
Does Fraction succeed? Kinda. And for now, "kinda" is good enough.
For those not familiar, The Defenders was born as a team book back in the 70s, and they were the very definition of Nobody's Favorite – a bunch of second-stringers, to the point they were led for a while by Marvel's knockoff pastiche of Batman (Yes, there is another one besides Moon Knight). The book consistently came in behind Marvel's big hitter team books, Avengers and X-Men, and died mostly unmourned in the early 80s. To give you an idea how a lot of people felt about it, one of the most recent revivals was helmed by Keith Giffen, J. M. DeMatteis and Kevin Maguire – the guys behind Justice League in the 80s, which was another team of inveterate second stringers – and, as they eventually did with Justice League, they played the Defenders mostly for laughs.
The original Defenders series was only notable for being a place where more experimental writers like Steve Gerber could run wild – they teamed up with Howard The Duck once, for Christ's sake. And it seems to be in this spirit that Fraction is trying to ground his new Defenders.
The lineup is just about the same as it ever was – Dr. Strange, The Silver Surfer, and Namor, with Red She-Hulk thrown in instead of The Hulk, probably because Ike Perlmutter will be damned if he pays four people to draw The Hulk on a monthly basis. Fraction also throws Iron Fist into the mix; an optimist might say it's because Fraction made his Marvel bones writing Iron Fist with Ed Brubaker… a pessimist might say it's because he's developed a taste for giving comics fans the fist. But I digress.
Dr. Strange puts the band back together at the behest of The Hulk to chase down Nul: Breaker of Worlds – the hammer spirit who possessed Hulk during Fear Itself – but considering that this is yet again a comic issue that is designed and destined to become the first chapter of a trade paperback, the story doesn't progress enough for Nul to be more than a Macguffin to introduce us to the characters… and that's where this book makes itself interesting.
Fraction has chosen to depict The Defenders as thrill-seekers. Sensation addicts. We meet Namor and find out that he's willing to join back up because he always liked where he wound up with the Defenders. The Silver Surver turns himself into snow… just to see what it feels like. Iron Fist takes the maiden flight of his own Virgin Galactic ship to learn some Zero-G Kung Fu. More disturbing, we meet Red She-Hulk chasing panicked bulls down the roads of Pampalona, possibly to break herself off a piece of Old Fashioned Texas Love-Stumpin'. Most disturbing was seeing Dr. Strange after boning some grad student, because I think most comics fans want to see the love habits of a man who's not just into strange, he got himself a fucking doctorate in it.
All of which might sound a little odd, but is actually is a fresh and interesting take on the idea of a super-team. All too often teams get together to save the world or out of some sense of altruism. The better ones, like Giffen and DeMatteis's Justice League, bring an interesting workplace relationship dynamic to the party. But it's a rare book that looks at superpowers and admits that the first thing anyone who actually had them would do would be to find new, cool and interesting shit to do with them. It's a too-rare characterization in superhero comics, and it totally works in The Defenders.
The pencil and ink team of Terry and Rachel Dodson serve the look of the book well. Terry's pencils are simple and straightforward, but not in a "generic superhero comic" way. They actually, for good or ill, remind me of Kevin Maguire: not overly complicated, with spectacular attention to facial expressions. Throw in Rachel's thin-lined inks, that give the relative simplicity of the pencils a sharp look without chucking extra 90s-style busyness in, and we've got a serviceable look here. And in a book where the motivation of the characters, and the emotions they get out of what they're doing, are so far such a large part, this is art that works well for what this books is shaping up to be. To be a bit critical, I do find the action sequences a little tad… static, I guess, but considering I remember liking their stuff in Marvel Knights: Spider-Man, and since this is a relatively low-action first chapter, I'm willing to keep giving it a shot to see how it plays out when things get violent.
It's early yet, but it looks like Matt Fraction is trying to do something interesting with this book. Seeing superheroes doing things for the sheer, lunatic thrill of it is something different and fun… although having seen two characters seeking those thrills in the sack in the first issue, I have a certain tremor that eventually I'll need to review this book using the phrase "Iron Fist in She-Hulk" and weep for the boner I won't have for quite a while.
But until that happens, we've got interesting characterizations and motivations, which are 90 percent of any good story. I'm gonna keep checking it out…
…unless the fuckplay keeps amping up. I'm no prude, but The Defenders has a history, and that is not how I want to be reintroduced to Howard the Duck.