on
December 27, 2011
at
6:32 pm
Call this post "The Good, The Bad, and WTF". Here are some books we've talked about before. Let's check in to see how they're doing now.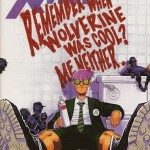 The Good
Wolverine And The X-Men written by Jason Aaron with pencils by Chris Bachalo, Duncan Rouleau and Matteo Scalera wraps up the opening story arc of Wolverine's first day trying to run a school for young mutants. I enjoyed the first issue. Aaron continues to bring humor to this tale, now up to issue #3. He pens an engaging story that reminds the reader that your typical teen can be an obnoxious handful who believes deeply that they are the hero of not only their own story but everyone else's. Still, all the kids want to do is fit in somehow, in his or her own way.
More goodness, badness and wtf-ness after the jump…and spoilers.
↓ Read the rest of this entry…