on
June 1, 2012
at
4:50 pm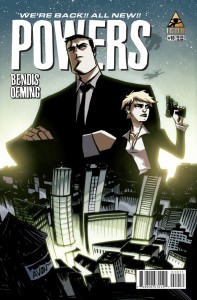 Brian Michael Bendis's and Michael Avon Oeming's Powers has been a dicey read for me for a long time now. A comic that started as a unique take on the superhero book, where some regular cops worked regular cases that just happened to involve superhumans and included some of the coolest dialogue you could find in a comic book, it eventually… evolved. Or devolved. Into a book where the regular cops got powers and secret identities, and the compelling partners at the core of the book split up, all while Bendis and Oeming started putting out, say, an issue a year, whether we needed one or not.
If the original Powers arc, Who Killed Retro Girl?, was the comics equivalent of Twin Peaks season one, the more recent arcs have been more like Laverne & Shirley after they went to Hollywood… assuming Garry Marshal had had the brainwave to replace Shirley with The Great Gazoo. Which is somewhat of an unkind comparison, because I always kept Powers on my pull list, because even while the characters shuffled and I lost track of the plot between issues, it still offered some of the best dialogue in comics, and there was always something interesting going on, even if some issues felt less like seeing Muhammed Ali in his prime in 1979 than it did watching Muhammed Ali trying to eat prime rib in 2009.
You get all that? Good. Now forget it all. Because Powers #10 is flat-out the best issue of Powers since the early, early Image Comics days. It has it all: the crackling dialogue, Walker and Pilgrim back together doing interrogations in the box, and real, human stakes behind the superpowers. It is awesome, and one of the best single issues of not just Powers, but of any comic book I've read in weeks.
↓ Read the rest of this entry…