If You're Not Part Of The Solution… – Review Of Anthony Bourdain's "Get Jiro!"
on
July 3, 2012
at
2:58 pm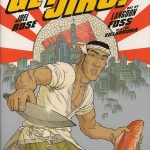 When I was growing up, my mom had a saying: "If you're not part of the solution, you're part of the problem." She meant it in relation to voting. Her feeling was, if you didn't like how things were, you couldn't legitimately bitch about the direction the country was going if you hadn't tried to make the effort to make your voice heard. Conservative or liberal didn't matter so much as you at least tried to make your feelings known.
She had a point, I suppose. I'm not a particularly political person myself, though, so I tend to take more of the view that change starts with me. Do unto others and all that. Say "thank you" to the guy holding the door open for other patrons at Dunkin Donuts. Avoid calling my condo association to get my neighbors' cars towed for parking in the common area, because I might need that spot in a pinch someday. Be cool to the pizza delivery dude. In short, as Wil Wheaton put it, "don't be a dick."
In Get Jiro!, Anthony Bourdain proposes a future in which, lacking options for whatever reasons, the world has become food obsessed. To the "haves", a hot restaurant reservation is more valuable than money. To the "have nots", fresh food options have become scarce and Twizzlers are dealt like drugs. Society has become beholden to warring factions that control the distribution of food and the cops are staying right the hell out of it. Seems like a lot of dickery right out of the gate.
Sushi, smugness, and spoilers, after the jump!

Is Get Jiro! a realistic view of where American society is headed? In an interview with MTV Geek, Bourdain doesn't completely believe so, but doesn't dismiss the notion entirely:
Geek: How about the warring factions in the book – the militant vegans, and the haughty-taughty restaurant… Is that where things are heading at all in real life?

AB: I don't think so, it's an exaggerated riff on the worst of douche culture. Any place there's a velvet rope and bottle service, it's not hard to imagine that kind of a world. [Laughs] I mean, we deliberately took it to extremes.

Geek: Regular people don't get off too well in the book, either…

AB: Again, it's a savage and unrealistic take on reality. But on the other hand, if you go to working class, and working poor areas of America, the food sources that are relegated to them are generally limited to unhealthy ones. There's no doubt, it's a mean take on what is left of the poor. But what is left of the poor? Try to buy a fresh f**king vegetable in West Baltimore. It is a not completely inconceivable scenario in the future, we'll all look like that… Waddling from convenience store to fast food outlet, chewing mindlessly on 99 cent hamburgers.
As much as Bourdain, and co-writer Joel Rose, do touch on these issues within the book, Bourdain also points out that he wrote the book for the usual host of reasons: loved comics as a kid, wanted to write about subjects he loved like food and "Dashiell Hammett's Harvest, classic spaghetti westerns, samurai flicks…". He does manage to wrap all these areas up into one big maki roll here. But, is it any good?
Let's start with the art. Langdon Foss does a nice job channeling Geof Darrow. He draws vivid action scenes. The storytelling in his artwork is easy to follow, even when the panels become busy with minutiae. He also includes little cute bits of business in the backgrounds (a storefront named "Touch Of Bosnia", capers in a pantry labeled "Free Range") that call to mind Darick Robertson's work on Transmetropolitan. The art is solid. How about the story?
Well, the former chef/television personality, has already been on record that the book is "sort of like Fistful of Dollars meets Eat Drink Man Woman". It is a pretty accurate description. So much so that when Rob read the book, without having seen the advance publicity for the book, his first words were, "Meh, I saw it when it was A Fistful Of Dollars." Then we got drunk and spent some time tracking down A Fistful Of Dollars on YouTube for comparative purposes. Get Jiro! does hang its narrative pretty strongly on story beats from that movie…as A Fistful Of Dollars also does on Yojimbo and Dashiell Hammett's The Glass Key and Red Harvest before that. So, pointing fingers about the originality of the concept is kind of pointless. Honestly, I didn't get too hung up on it when I read the graphic novel. I found my first read through of it to be quick going for 160 pages. But, I came away from the story somewhat more bemused than entertained. It took another couple read throughs to sort out why.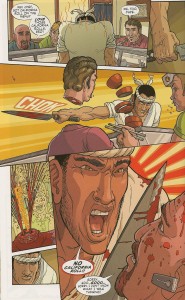 Was it the brutal beheading of the food tourist who unwittingly asks for California roll in the opening pages? Or the food porn-esque panels, walking us through classic recipes like pot au feu or blanquette de veau, which felt somewhat less like loving description necessary to the atmosphere of the story and more like the tits that HBO's Game Of Thrones jiggles at me while it tries to distract me from a scene that is mere exposition? No, it was neither of those. If I had to put my finger on the cause, it was the underlying ephemeral smugness of the overall work.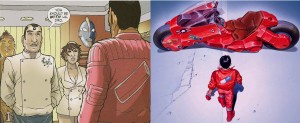 Little bits of business like putting a sushi roll on the back of Jiro's jacket. Yes, Bourdain. You've seen Akira. How fucking clever. Or in the taco vendor who flips his sign over to portray gringo offerings as the foodie thugs roll up outside his cart. Those evil foodies don't deserve his tacos de lengua or cabeza. They are only worthy of the Old El Paso shit. This scene (granted, these particular foodie thugs are bad guys, but still) in conjunction with the beheading in the opening pages is what crystalized where my irritation was coming from. What the hell, Bourdain? Those of us that have gotten interested in food culture, in a lot of cases directly because of your books and television programs, don't deserve to have the very food in which you got us interested in the first place? It put me off the whole rest of the narrative. But, that is the very attitude towards what Bourdain perceives to be the unmannered which he intends to convey:
Having been a chef for some many years, I understand what it's like to work really, really hard to get good at something, only to have someone piss all over it. In my heart of hearts… Lopping somebody's head off, for taking your first piece of nigiri and letting it soak in this slurry of wasabi and soy… That's not an unreasonable reaction. I mean, in the little dark voice in my head? I can kind of understand that. I've sat in sushi bars, really fine ones, and I know how hard this guy worked, how proud he is. I know you don't need sauce. I know he doesn't even want you to pour sauce. And I've seen customers come in and do that, and I've seen him, as stoic as he tries to remain, I've seen him die a little inside.
Bourdain is entitled to his feelings. However, even though he goes on in that interview to say that customers at Les Halles, the restaurant for which he is now "Chef At Large", certainly can eat their steak tartare with ketchup and no one would "feel hurt", the seed of disdain toward those he perceives as "uneducated" has already been planted. And, it comes through in every scene in which there are paying restaurant customers in this book, from the diners at the hole in the wall French bistro who aren't offered the good wine to those eating in the upscale restaurant who are shown with cell phone ear buds and low regard for their surroundings. You, the little guy, don't appreciate what we do, he seems to be saying, so fuck off. But, I wish he could have found some way to have indicated that same level of compassion for the little people who have become attracted to the altar of Food Culture in all its forms, boorish as some of us may be, that he does in trying to establish the frustration of the craftsmen that prepare the food. Bourdain seems to have no interest in mitigating a situation that he's helped to contribute to.
And that's, well, just being a dick.