on
July 5, 2012
at
9:55 pm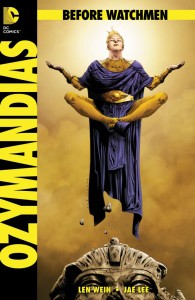 We're only about a month into the rollout of Before Watchmen, but I have already learned that, when I open one of these issues, I should expect to experience a strong emotional reaction. Granted, that reaction is normally somewhere in between mild bemusement and screeching pre-psychotic rage, but a reaction nonetheless.
No matter what you think about Before Watchmen as a project, you have to admit that there hasn't been an issue released so far where you can't say that the creative team wasn't swinging for the fences. Sure, Comedian was a hot mess of mischaracterization and plot points that directly conflicted with Moore's original, and Minutemen seemed to think that Hooded Justice, a former circus strongman, had Moves Like Jagger If Jagger Studied Ninjitsu With Bruce Lee, but there was never any doubt that Azzarello, Cooke and the rest weren't trying their damnedest to add something substantial to the Watchmen mythos… even if what they're adding at best isn't what anyone asked for, and at worst isn't what anyone ever wanted. You gotta admit they're trying to bring something new to the party.
At least, you had to admit that. Because this week brings us Ozymandias #1, written by Len Wein with art by Jae Lee. And it is the first Before Watchmen comic that adds literally almost nothing to the story and character that came before. This book almost exclusively reiterates character and story beats directly from the original Watchmen story, giving us very little beyond them… but to be fair, it does provide a bit of additional character illumination and story extension. Unfortunately, the character that is illuminated is Ralphie, and the story it extends is A Christmas Story.
↓ Read the rest of this entry…