on
July 11, 2012
at
11:53 pm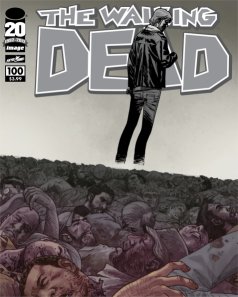 Since Rob and Amanda are off in San Diego, risking life and limb dodging furries and trying desperately to avoid the dreaded ConSARS, they've asked me to write up my thoughts on Kirkman's centennial issue of the Walking Dead.
Last night I caught up on the last several issues of The Walking Dead in preparation my review of issue 100, and, after reading through the past few books I was disappointed to find:
Carl still won't stay in the fucking house
A stranger appears with a too-good-to-be-true offer from a nearby community
This community, it could change everything, they could have lives again!
Rick opts to tie up the stranger instead of putting an e-fence shock collar on Carl
It reminded me of daytime soaps and their lather, rinse, repeat storylines; though here it's even less surprising when a character comes back from the dead. As I finished up #99, I found myself growing tired of the repetitiveness, and yet still eager to read issue 100, hoping for an interesting turn rather than more of the same.
Spoilers Ahead
↓ Read the rest of this entry…