Space Madness: Space Punisher #2 Review
on
August 14, 2012
at
8:02 am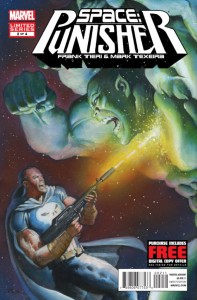 I missed the first issue of Space Punisher for a few reasons, the biggest of which being that it was a book called Space Punisher.
Seriously: if all you know about the book is that it's called Space Punisher, why would you buy it? At face value, it sounds like someone decided to fire the 616 Universe Frank Castle into space so he could try to kill the Guardians of The Galaxy or something, probably in the service of trying to get someone to give a tin shit about the Guardians of The Galaxy before Marvel Studios spends a hundred million bucks making a movie about them. It wasn't until I saw Space Punisher writer Frank Tieri talking about the book at the Amazing Spider-Man panel at SDCC that I understood that this was an Elseworlds-style book, about an entirely different version of Frank Castle, who happened to be a starship captain. "Think Buck Rogers if Buck Rogers really screwed up," Tieri said at the panel.
So I decided to give Space Punisher #2 a day in court, and sure enough: it's about a version of The Punisher who happens to be in space. But the space setting is really the only thing different in the story, which is simultaneously a strength to the story, as well as its biggest problem.
Space Punisher #2 picks up with the aftermath of some kind of battle between The Punisher, The Leader, Deadpool and Sabretooth, with Punisher on the ropes before The Hulk shows up and starts wreaking havok. Punisher escapes, tortures the truth out of Leader before killing him, which leads him to Doctor Octopus, who Punisher then tortures in the pursuit of working his way up the chain or organized crime to its leadership. Only, you know, in space.
If that description sounds familiar (except for the space part), it's because the only thing really different about Space Punisher from any other non-Marvel Knights or Marvel Max Punisher story is the cosmic setting, some of the costumes, and the weaponry. Sure, The Hulk has four arms, and Microchip is actually a Metropolis-looking robot named Chip, but other than the Space Opera trappings, there is no difference between the characters in Space Punisher than there are in any 616-set Punisher story.
And that familiarity, in one sense, works in the story's favor. Despite missing the first issue, there was no learning curve in Space Punisher. Frank Castle is still Frank Castle, on the unending search to avenge the murder of his family at a (space) picnic by torturing and killing (space) criminals. The Hulk is still Bruce Banner, horribly transformed by a (space) gamma accident, and General Thunderbolt Ross is still in charge of a (space) Hulkbusters unit charged with bringing The (space) Hulk down (in space). So it is very possible to grab this book and drop right into it…
Which is also the story's biggest flaw. Because other than the "in space" parts of the description of the book, there's really nothing different about this story than any other Punisher story. It has some space opera trappings, but the difference between strapping a criminal to the front of a spaceship and strapping him to the front of a van is a matter of semantics, particularly when the writer decides that dealing with the vacuum of space is something that only needs to be nodded at. People ride open space-motorcycles through the void, and yell battle cries in on panel while acknowledging that there is no sound in space in another panel. And while this fast-and-loose treatment of space is consistent with a good, old-fashioned space opera, the setting doesn't really add anything to the story. If you take out the space setting, you still have a light, breezy Punisher tale that's fun enough to read, but the space setting adds something… that something being space. And that's pretty much it.
The art by Mark Texeira is actually pretty special; the book has a painted look to it (I'm not sure if it's actually painted, or if it's done through Photoshop; the problem with the modern age of digital coloring is you sometimes won't know if something is actually painted until you see the price tag at Artists' Alley), but it gives the book a unique, diffused look. Texeira's lines are actually pretty fine, but the painted colors make everything look like it's being viewed through a gauzy filter or something. His panel layout and pacing are clear and simple to follow, and… well, it's hard to say that his figures look realistic when one of the figures has a bunch of squid legs, and his Hulk has four arms and no pants. Or genitals. No wonder he's so pissed off. But regardless, this is a good looking book, which adds a feeling of a bit of gravitas to what is really a fluffy story of Buck Rogers frippery.
Space Punisher #2 succeeds in that it's a fast-paced, fun story with enough Buck Rogers / Firefly trappings to make the space setting a bit interesting. But those trappings really only succeed in making the book look different than any other light Punisher story. The characters are the same as their 616 counterparts (Down to Deadpool yammering about how he likes being spanked while listening to Funkytown), and other than some costume redesigns, Tieri might as well have set the book in New York. But the setting gives Tieri the excuse to chuck in cameos from everyone and anyone in the Marvel Universe, and despite not needing the space elements, it's still a fun, fast, good-looking read.
In space.