Stunt Flying: Rocketeer: Cargo of Doom #1 Review
on
August 27, 2012
at
8:35 am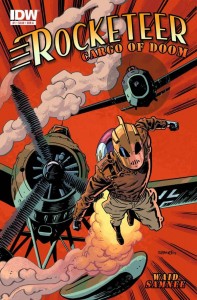 I had mixed feelings about Rocketeer: Cargo of Doom going into it, because as much as I love the character, it really belonged almost totally to creator Dave Stevens. Sure, I've been enjoying the Rocketeer Adventures books over the past few months, but many of those stories took place around the Rocketeer universe, featuring other characters and how the presence of The Rocketeer affected them. These short stories felt like tributes to Stevens's character and work, allowing the original to stand on its own without new creators jumping right into that sandbox.
Rocketeer: Cargo of Doom, however, is a full-length miniseries focused firmly on The Rocketeer and his friends themselves. This puts the creative team of writer Mark Waid and artist Chris Samnee right onto Stevens's turf, and when it comes to Dave Stevens, we're talking about a guy who was such a perfectionist that he only came out with two long form Rocketeer stories between 1982 and 1995. So for a long-time Rocketeer fan, who owns the original movie poster and who still carries his keys on a Rocketeer keyring, a poorly-done Rocketeer story would be a catastrophe; a rotten cash grab on the level of the worst of Before Watchmen, only with an added distasteful element of necrophilia thrown in to boot.
Thankfully, Rocketeer: Cargo of Doom is a generally worthy addition to the Rocketeer canon, that continues Stevens's own addition of period-appropriate pulp canon to the original aviation-based story, with a healthy dose of flying action, a respect toward the vocation of pilot in the early days of flying, and the most dysfunctional relationship since Judd Winick said, "okay" to Catwoman. Of course, being a period pulp adventure story written after 1982, it also borrows some elements heavily from Raiders of The Lost Ark, but we'll get to that in a minute.
The issue opens up right into the action… that action being a Civil Aeronautics Agency (the precursor to the FAA) inspector trying to join the Mile High Club with Rocketeer mechanic Peevy's niece, Sally… because when inspecting a single-engine stunt plane for safety, the best and safest way to do it is to assault the pilot and try to force her to operate your control surfaces. This operation, predictably, goes badly, what with the plane losing control and the inspector failing to dump his load, so to speak. Enter The Rocketeer, with a thoroughly satisfying air rescue to open up the story, which continues with Sally mooning over Cliff, Cliff getting into fights with girlfriend and Bettie Page look-alike Betty, all while Sally tries to get Cliff to do something about what the pervert federale did in the friendly skies. In the meantime, a freighter steams toward Los Angeles, with something horrible in the hold…
This book gets a hell of a lot right. The opening action sequence is exciting and straight-ahead, and the characterizations of the previously-existing characters – Cliff, Peevy and Betty – all feel true to Stevens's original. Cliff is a hothead, Peevy a kindly yet crotchety peacekeeper, and Betty a strong-willed jealous type or a raving bitch, depending on your point of view. The relationship between Cliff and Betty has always been portrayed as dysfunctional on a good day and incomprehensibly co-dependent and doomed on a bad one, and Waid gets the spirit of that well. Where the rubber hits the road, these are impulsive, selfish characters who on an infinite timeline will kill each other, and Waid captures that feeling to a T.
There is potentially an argument to be made that the supporting characters are too broadly drawn and not necessarily believable – CAA Agent Feeney is a corrupt horndog to the exclusion of almost any other character trait (including even basic self-preservation, apparently), and Sally vacillates wildly between self-sufficient tomboy and love-struck teenybopper, with wildly exaggerated expressions of rage and romantic grief, with almost no middle ground between them. However, I m willing to accept that Waid is going for an authentic 40s-style pulp drama here, and having seen my share of those movies, the characterizations feel authentic given those parameters. Sure, Raiders of The Lost Ark has trained us to expect more nuance in pulp characters, but that doesn't mean they were there at the time.
And ah yes - Raiders. There are elements in this book that you will see plucked almost directly from that series of movies. The freighter with cargo that is deadly. The hero possibly pursuing an inappropriate relationship with an under-aged girl. These aren't huge parts of the story by any stretch of the imagination, but the fact of the matter is that this is a story taking place during the same time period as Raiders, which means that any geek worth their salt will automatically pick up on any similarities between them. And while, again, neither of these elements is the most important part of the story, seeing them distracted me from the story at hand. And while I'm willing to accept that Raiders had some of these elements because they are old pulp tropes (some young girl having a crush on the hero is as old as adventure movies… Raiders just took the extra step of having had the hero actually bone her), I did find them somewhat distracting here.
Chris Samnee's art is serviceable enough here, but it's honestly not what I'm looking for an a full-scale Rocketeer story. Samnee works with a medium line, presenting generally realistic figures and facial expressions, but with a somewhat minimalist style. His action pacing is excellent, and his layouts are clear, and his aircraft drawings look realistic to me… but this is a story extending characters originally drawn by Dave Stevens. Stevens drew finely-detailed, highly expressive characters, and he drew cheesecake characters like nobody's business. Samnee's work is good, but doesn't extend the visual styling I've come to expect from a Rocketeer adventure story. No one could really match Stevens's work on the original Rocketeer – Adam Hughes or J. Scott Campbell might be the closest modern spiritual matches – and Samnee's work is by no means substandard… it's just not quite what I'm looking for here.
On the whole, Waid and Samnee get the broad strokes of The Rocketeer right; the story has the action, the characterization, and the 40s pulp feel that one would want from a Rocketeer story. It's by no means perfect, and some of the period storytelling authenticity might be off-putting to a more modern audience – it's hard to accept a character like Feeney in a world where a guy like that would spend all his time either giving depositions in a Human Resources office, or in his office in the Capitol Building – but it gets the broad strokes right. And there is just enough ambiguity as to what is in the ship's cargo hold (the brainwashed minion and wooden stake scream Dracula, but the reference to Skull Island point to something else entirely) to keep things mysterious for the next issue.
Is it a perfect Rocketeer story? Hell no. Is it worthy enough to keep the name? Yes it is. Is it worth checking out? If you like The Rocketeer, or have a taste for decent period pulp adventure? Absolutely.