This Trouble Goes To Eleven – Review Of Doctor Who 7.1 "Asylum Of The Daleks"
on
September 2, 2012
at
8:00 pm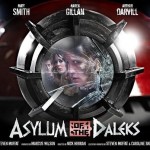 (Ed. Note – This review will be spoily woily, which is like timey wimey or explodey wodey or whatever, but with more spoilers. Starting pretty much immediately. You've been warned.)
Last night was the premiere of Doctor Who season 7. Last night was also the night I discovered that Layer Cake Wines makes an excellent, if powerful, Grenache that will knock you on your ass and make it very difficult to post a review in real time, let alone live tweet it. This is probably just as well, given the number of folks I saw in my Twitter stream threatening to do awful things to those who might post any hint of spoilers that might ruin their own personal viewing experience when they get around to finally watching it themselves, in their own good time. For example:
.@davemaulding @sizzlerkistler Yeah, I haven't watched it yet. I'll be blocking and cursing anyone who spoils it for me.

— Janna O'Shea (@dreamyeyed) September 2, 2012
But, it's a whole new day and I'm sober. Therefore, I feel I should dispense with the niceties and warn everyone up front that last night we learned that The Doctor regenerates and comes back as Raptor Jesus. Also, the Ponds discover they can assemble themselves into Voltron. Oh, and The Doctor's new companion is a Dalek.
One of these things may or may not be true.
Read the rest of my actual review, after the jump!

The episode opens on the burnt out remains of Skaro, homeworld of the Daleks. The Doctor meets a hot redhead who claims to have escaped from a Dalek prison camp. Turns out she's the most recent release of Dalek Beta Gold and the glowing blue eyestalk that erupts from her forehead is a feature, not a bug. The Doctor is captured in short order, as are Rory and Amy back on Earth. Oh, and I should mention that the Ponds are in the process of getting a divorce. More on that later.
The Doctor and companions discover that they've been tasked with saving the Daleks from other, more crazy Daleks (yes, somehow this is a thing) who have been kept on an entire planet that has been turned into a prison. There's been a breach in the security force field that surrounds the planet because of a shipwreck by humans. It's just big enough to let crazy Daleks out, but not big enough to send a bomb through. Convenient. Oh, and the off switch for the force field that will allow them to nuke the site from orbit is located down on the planet. Really Daleks, who designed your security? Did you assimilate some Trekkie Red Shirt with a sense of humor? "Ha! You see what I did there? Who has to go down to the scary planet and get his ass killed now, bitch?" Apparently, not the Daleks.
A whole backstory is spun detailing the Dalek culture's admiration for and inability to destroy that which demonstrates hate, like the crazy Daleks down on the planet. These are Daleks who got served an extra helping of vitamin Hate and the Dalek parliament now finds them beautiful because of it and are unable to destroy such beauty. They've got plot contrivances standards, or something. This is also the reason they supposedly can't bring themselves to finish off The Doctor. A being that has been visiting such abject destruction on their species for centuries must be filled with a level of hate they find awe inspiring. Good work there, Doctor!
Planetside, The Doctor discovers that there is a sole surviving human, Oswin, from the shipwreck who has been sending transmissions as a cry for help. She claims she has held the Daleks off for about a year and has hacked into their technology because she's a super genius. She can turn off the force field if The Doctor can come get her. And she's modest, too. However, the place is infested with a swarm of nanogenes that turn living and dead organic matter into new Daleks. This is why he, Rory and Amy have been fitted with special bracelets before leaving the Daleks' ship.
Of course, Amy loses her bracelet in short order, after a skirmish with some newly animated, zombie Daleks created from the dead ship's crew. This allows for the plot contrivance opportunity for Amy and Rory to hash out the differences that led to the divorce. Oswin has passed along that love will hold the nanogene virus at bay. Rory plays the "I've always loved you more than you've loved me" card with Amy. He's of the opinion that his love for her will hold off the nanos for longer. Hell, he even points out that he waited and stood guard outside a place where she was trapped for 2,000 years because of his devotion to her. Now, I've personally always been of the opinion that Rory has been punching above his weight the whole time he's been in a relationship with Amy, but I'm not sure it's ever a great idea to present yourself as a martyr to win an argument. She counters his argument with "Yeah, sure you waited, but guess what? I'm infertile and you want kids. I gave you up so you could go have kids. That was hard too." Frankly, it all sounds retarded as I'm typing it, but that's just it about couples and fighting. It doesn't matter how dumb the argument sounds to someone else; the issue happens to be important to you or it wouldn't have been a problem in the first place.
But, then they discover that The Doctor had slipped his bracelet on Amy anyway and this was all a convenient ploy to have them hash out their differences. You know, with the specter of Death hanging over them. I'd hate to see what The Doctor would have done if he'd had the option of access to an AIDS infected needle.
While the Ponds discuss who has the right to be more butt-hurt in the dissolution of their relationship, The Doctor is trying to find Oswin and puzzle out how she could possibly the only living organism on the planet not affected by the Dalek nanogenes (other than himself, it would seem). The answer would be…she's not.
For the record, Oswin is played by Jenna-Louise Coleman, who fans may be aware will be joining the series after the exit of The Ponds this season as the new companion, Clara Oswin. But, will she be a Dalek when we next see her? All we know for now is that the characters share the same last name.
This episode is successful on the grounds that it asks the viewer to question the nature of surface reality. What is a human? What is a Dalek? Is a broken relationship really past the point of saving? Am I really going to leave the house without wearing any pants? You may think you know an answer with certainty, but then circumstances require you to rethink what you know. Or a guy mutters something to you about "indecency" and flashes a badge. Suddenly, your whole world is upside down. Are there plot contrivances and unanswered questions? Yes, but the story was strong enough that you didn't find yourself dwelling on it. I'll keep watching the series for now, even though next week's episode, "Dinosaurs On A Spaceship" just smacks of silly. At least on the surface.