Neither Phantom, Nor Stranger: The Phantom Stranger #0 Review
on
September 6, 2012
at
9:14 am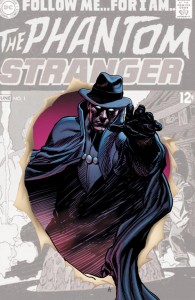 EDITOR'S NOTE: I am but a spoiler…
So after sixty years of history, today I learned that The Phantom Stranger's superpower is to be a treacherous douchebag. Plus, he's wearing Jesus's pants.
Look, while I don't agree with the recent DC editorial decision to make The Phantom Stranger's identity as Judas Iscariot unambiguous – particularly since after the last big DC reboot, they went out of their way to make sure that the Stranger's origin was as mysterious as possible – I have to admit that, as origin stories go, it certainly is one.
The Phantom Stranger #0, written by Dan DiDio with art by Brent Anderson, doubles down on the Judas-as-Stranger story, showing us the Stranger's origin right from the moment after Judas took a long walk off a short length of rope. And while it accomplishes a great deal in 20 pages, from showing us exactly who the Stranger is to where he got that funky cloak to how he ties into early DC continuity, it does it by mashing up disparate pieces of Judeo-Christian and Shazam-Marvellian mythologies, adds to both of them in ways never before intimated that we just have to take on faith, and with some ham-fisted writing (not story, actual writing) to boot.
Plus, it includes the exciting origin of Jesus's pants.
The story opens with Judas awakening in chains following his suicide after betraying Jesus. Now, before the Jesus Freaks get their underpants in a bunch, DiDio is smart enough to never call the Stranger Judas, and he never namechecks Jesus. So there's just enough ambiguity here to (hopefully) keep the Westboro Baptist Church away from the front door of 1700 Broadway… but let's face reality: if you have a guy forced to wear thirty pieces of silver after screaming, "Forgive me as He would!" we're not talking about the world's best-kept secret identity here.
Anyway, the Stranger is brought before "The Council of Wizards" – a bunch of people of different races, all rocking Shazam's lightning bolt logo. The implication being that this is the same council that gave Shazam (nee Captain Marvel) his superpowers… and considering that the word "Shazam" was originally means to be an acronym for a bunch of mostly Greek gods, what we got here is the implication that Judas was judged for the betrayal of Jesus by a bunch of polytheistic deities, which is an even bigger risk to run than actually naming the Stranger as Judas. Tell Fred Phelps I said hi, Dan!
The Council sentences the Stranger (who appeared as being judged with New 52 mystery woman Pandora, and the other as-yet-unnamed member of the Trinity of Sin, which will be the name of my next Ska band) to walk the Earth wearing his blood money as a sweet pimp necklace, all while wearing Jesus's cloak, which gives the Stranger his glowing eyes and the power to cloud men's minds for some reason. Maybe I'm wrong on this whole Judas / Jesus thing, and the Stranger is actually Harry Vincent, making amends for betraying Lamont Cranston. But probably not. Then 2,000 years pass, and The Stranger meets and betrays James Corrigan, turning Corrigan into The Spectre while a coin drops off the Stranger's necklace, leaving him 1/30th on his way toward paying for his sins (via another sin apparently) and short on bus fare home. Fin.
I realize I've poked some fun at this story, although if I'm honest, there's nothing innately wrong with it. It makes a certain amount of sense for the Stranger to be Judas atoning for his sin, although leaving his judgment to the dudes who apparently gave Billy Batson superpowers seems more than a little weird. And I can even buy forcing the Stranger to wear the cloak of the man he betrayed as a constant reminder of his transgression, but making the cloak give the Stranger superpowers feels like it doesn't come from anywhere. According to the Bible, Jesus's clothes were gambled off during his crucifixion, so does this means that somewhere there's a lucky fella who won a pair of sandals that give him bitchin' arch support and a constant, dazzling boner?
And I can even buy the Stranger as a driving force behind The Spectre's origin… but The Spectre has always been depicted as a force of vengeance working for capital-G God. So if the Stranger is working at the behest of The Council of Wizards, and they led him to create The Spectre, does that mean that The Council of Wizards is now God in the post-New 52 DC Universe? And if they are, does that mean that Billy Batson is Jesus? See, this is the problem with yanking out all the mystery behind The Phantom Stranger and making him definitively one of the greatest villains of Christianity: if you try and fold that character into standard DC continuity, you open yourself up to a million continuity questions that you simply cannot answer. Not unless you want to piss off the only group of people more angrily continuity-obsessed than comic book fans: Christians.
There is also some seriously ham-fisted dialogue in this comic book. Dan DiDio can write story – he proved that in O.M.A.C., and to a certain extent here – but his dialogue is Silver Age at best. We get one panel here where the Stranger says, "I… I'm alive. But… but it can't be possible!" Yeah Dan, we know he's alive. It's a comic book. We can see it. Later, we get Jim Corrigan saying, "Yeah, all my life I've been filled with an uncontrollable rage." Sure you have: uncontrollable rage and uncomfortable exposition. Nobody talks like that, Dan!  
The best part of this comic is Brent Anderson's art. On one hand, it's nothing particularly special; he works in what looks to be a medium line, his figures are realistic, and his faces expressive. However, he's got two things really going for him: first, he does good work with shadow. Anderson give us some terrific panels an a darkened warehouse with the only ambient light coming from Corrigan's flashlight that are just killer in their depiction of darkness with a minimal light source. The other thing Anderson has going for him is that his art reminds me of some of the big artists of the Bronze Age. Sure, his line is a little less finely detailed than, say, Neal Adams, but the general style is similar, which is a look that I like for the Stranger. Yeah, it's probably because I grew up on Jim Aparo's depiction of the Stranger in books like The Brave and The Bold, and therefore instinctively picture that as my Stranger, but regardless, I liked the look of this book.
The Phantom Stranger #0 is not a bad comic book, but it is deeply, deeply flawed. DiDio's dialogue really needs stronger editing – I know Dan's the boss, Editor Wil Moss, but that red pen is for his own good – and frankly, DC has opened a can of worms by making the Stranger Judas that I don't think it was really prepared to deal with. Sure, making the Stranger a guy trying to work off one of history's most infamous sins gives the character some automatic gravitas, but historically, the character's mysterious nature and habit of only showing up when the shit was really hitting the fan already gave him gravitas. Plus, trying to make a Biblical character fit into DC continuity is clearly going to cause you more problems than it's worth.
Look at it this way: for the past fifteen years, DC editorial hasn't had the hubris to try and make their continuity fit in with that of Marvel Comics. Maybe you guys want to give that a shot and see if you can make it work before you try it with the King James Fucking Bible.