Wanted Killers: More Marvel Now One-Word Teasers
on
September 8, 2012
at
4:15 pm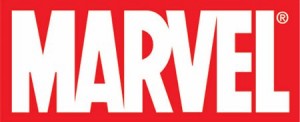 Fine Marvel Comics, you've done it: you finally fucking stumped me. I have no fucking idea what you're talking about. Are you happy now, you sons of bitches?
Marvel has released a couple of new one-word teaser posters for their winter Marvel Now releases. Earlier this week they released ones reading "Lightning," which was pretty clearly a teaser for a Thunderbolts relaunch by Daniel Way and Steve Dillon… and then there was "Survive," something by Dennis Hopeless and Kev Walker, which seemed to me to be a possible Marvel Zombies title… maybe. That one's kind of hard to tell – the word "survive" covered in blood might be a Marvel Zombies book, or it might be a book with Morbius The Living Vampire, or it might be about an accidental bathroom encounter with Ike Perlmutter.
Well yesterday, Marvel released two more one-worders. What do they have on the plate for us?
Fucked if I know, but you can check them out after the jump.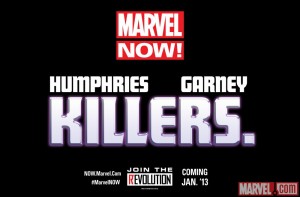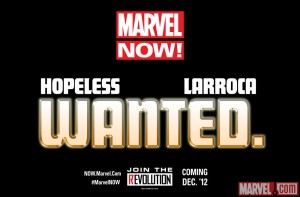 What the hell does that mean?
The "Killers" thing, teasing a book by Writer Sam Humphries (current writer of The Ultimates) and artist Ron Garney (most recently on issues of Fantastic Four and Wolverine), seems, despite my drunken prediction of The Punisher's involvement in Thunderbolts the other day, to point to that character. There aren't too many other Marvel characters that one could reasonably be pointing to… unless it's a tease that Marvel's put Rob Liefeld and Scott Lobdell on exclusive contracts.
And then there's "Wanted," by writer Dennis Hopeless with art by current Invincible Iron Man artist Salvadore Larroca, which is about… some Goddamned thing. Seriously: I have no idea on this one. Frankly, this could also be about the Goddamned Punisher. Maybe all the second wave of Marvel Now books are about The Punisher. Perhaps Marvel is attempting to rekindle the 1980s glory days of comic publishing, when Marvel published seven or so different Punisher books, cocaine was pure and readily available, and the only one-word tease that could excite fandom was: "blowjob."
Whatever book "Wanted" is teasing will be out in December; "Killers" will drop in January.