Batgirl Is Intense. Trust Me: Batgirl #0 Review
on
September 16, 2012
at
10:34 pm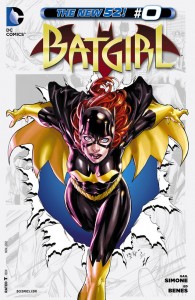 Batgirl #0 is kind of a strange book. It endeavors to explain Barbara Gordon's first work in a bat costume, and some of her motivations behind her initial moves into costumed adventuring, and it does that… kind of. But it also leaves open as many questions as it answers, introduces a bunch of vague mysteries that allow writer Gail Simone to tease assumed future stories, and winds up leading directly into the flashback of one of the most famous moments in the history of the character. It also spends a lot of time telling us Barbara's character traits by, well, telling us about Barbara's character traits, and it never really explains why Barbara is so fascinated with Batman – certainly not to the point where it makes sense that she'd put on a suit and start working with him.
But on the plus side, this is a superhero comic drawn by Ed Benes that features almost no gratuitous ass shots. Then again, depending on your taste, that might be a negative.
The bulk of Batgirl #0 is told in flashback, showing the first time Barbara put on a Batsuit during an assault on Gotham Police Headquarters. You see, Barbara is there ostensibly to do some research for her college Intro to Criminology course (which only made me remember Randall from Clerks 2: "What did we think, we were gonna be fucking Batman?"), but in reality is there to glean some details about Batman. While she's there, a Canadian serial killer- slash – cult leader, captured while on vacation in Gotham (because nothing takes it out of you like the tedious day-to-day routine of killing women with your stable of murderous bitches under the big Canadian sky) gets involved in an armed escape attempt while trying to take Barbara hostage. Barbara uses the chaos to learn an important lesson: she's good at stomping dudes and finds the activity fulfilling. And then she gets shot by The Joker.
There is a lot going on in this issue, and a lot of it is good and engaging. Seeing Barbara in the hostage situation, moving from trying to escape to finding the courage to fight back is a reasonably well-told character arc; considering Barbara walks into it completely convinced she's unable to beat the guy despite martial arts training and two batons – you ever been hit with a police baton? Trust me, those things hurt; she could have subdued him with a couple of those bad boys even from the wheelchair – seeing her win was inspiring, and seemed like a reasonable early step on the road toward becoming Batgirl. But where it becomes tricky is that that the motivations just don't seem to be here. Why is Barbara so interested in Batman? Is it just morbid curiosity that is timed well with the attack, or does she just have a thing for kevlar and leather? Is she already secretly planning to become a vigilante, or does it just take a chance encounter with a psychopath to send her on her life path, the way it did with all the rest of us? It's just not clear here.
Further, we get a lot of internal dialogue where Barbara describes herself as intense and driven, and we hear plenty of other characters describer her as the same… but other than fighting the killer, we don't really see those traits enough. It's a problem that isn't really Simone's fault; it's endemic to trying to use those traits to quickly and obviously describe a character when you only have twenty pages to tell her story. Simone does have Barbara display those traits in one form or another – God knows it takes intensity to take on a serial killer who, as Benes draws him, is seven feet tall and about 700 pounds of steroidal muscle – but we also see Barbara using her contacts in the Gotham PD to gain access to get an A, and then further exploit that just to learn more about Batman. Look, I buy the characterization, and we've seen enough of it in the first year of the New 52 for it to stick, but the repeated use of those adjectives in this story sounds almost like Simone saying, "This is how Barbara is. You're gonna have to trust me."
The story itself, while exciting enough, also has hole in it you can drive a bus through. So we have a Canadian serial killer on vacation in Gotham… whose acolytes come to bust him out. So what, they grabbed their automatic weapons and their high explosives and just drove over the border for a while? Simone says that the  guy's in the process of being extradited, why not wait a week until the dude gets a nice free flight home and bust him out with a less irritating commute? And in an entire police station full of cops, no one has a taser or pepper spray? When Harry the killer goes rogue, the cops are reduced to jumping on him? Hell, we see a room full of giant tanks of tear gas – what, is Gotham hosting the 1968 Democratic Convention? – but no stun guns? I can see why Gotham is so overridden by crime; they are clearly completely unequipped to deal with it. That over-the-border road trip for a breakout makes a little more sense now.
Where this book really shines is in the art, which actually surprised me considering I've considered Ed Benes art on other recent books, such as Red Lanterns, to be pretty much just pin-up cheesecake. And I initially figured we were in for more of the same; the second panel of the first page featured Barbara on her bed with a spectacular view of her crotch – but once we got the giggling required preliminaries out of the way, what Benes give us is finely-detailed with a remarkable restraint on the obvious cheesecake (although we get one or two panels that are dangerously close to upskirt shots), a clear layout, and well-choreographed action. One area that particularly stood out for me was the coloring by Ulises Arredla; large areas of the book have a watercolored look that I don't see a lot in standard monthly comics, and which I liked a lot. The combination of the coloring and Benes (generally) restraining his, "Look! Hot girls!" tendencies give a damn good looking book… although Benes is yet another guy who seems to think hat facial crosshatches make your dick grow bigger or something.
Batgirl #0 is a pretty good comic book, with a few flaws. It's pretty action-packed, with some good cliffhangers and mysteries for future stories built in – the hints around James Jr. as "abomination," and the story of how Barbara was forced to leave being Batgirl before the Joker shooting look to be cool stuff. But the trick is to not think too much about the story, which has some holes in it… and just take it on faith that Barbara has all the character traits and motivations that she says she has.