Justice (League), Like Lightning…
on
September 19, 2012
at
9:16 pm
Once again, Wednesday has come and gone, and all we have to show for it is a fresh liver nodule, the weak hope that we can survive another 120 or so hours to get the four-disc Blu-Ray of The Avengers (the definitive edition! You know, until next Christmas, when an eight-disc "Mighty" edition will undoubtedly arrive!, Probably with a teaser trailer for Guardians of The Galaxy! And a working repulsor glove!), and terminal, day job-related exhaustion. Well, those things, and a big pile of comic books. And one of those four things means that this…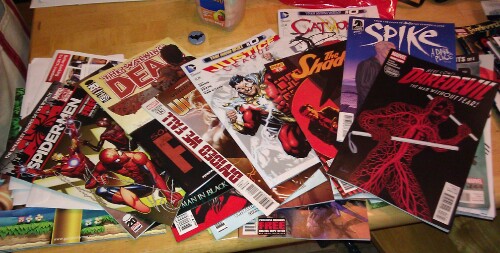 …is the end of our broadcast day.
But this is actually a decent-looking week. Sure, we're still in DC's Zero Month, which has been kinda feast or famine, but this week we have Catwoman #0 (with new writer Ann Nocenti), and Justice League #0, with art by Gary Frank, and showing us the first actual appearance of the New 52 Captain Marvel (known these days as "Shazam," but those of us older than 30 know better). We've also got the conclusion of Bendis's Spider-Men, a new Mark Waid Daredevil, the continuing aftermath of Glenn's murder in The Walking Dead, and the coronation of President America in The Ultimates #15!
But you know the drill: before we can review them, we need to wash off the stink of our respective employers, sober up, and then have time to read them. So for at least the next twelve hours…
See you tomorrow, suckers!