Some Unknown Dude Apparently Knows His Stuff: J. J. Abrams WILL Direct Star Wars
on
January 26, 2013
at
12:11 pm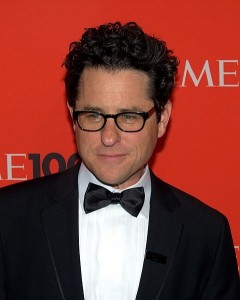 Disney and Lucasfilm clearly have a deeply-rooted hatred of honest, hardworking writers about comics and genre entertainment. There is no other reason for them, after a full day of unanswered and anonymously-sourced rumors that J. J. Abrams has been hired to direct Star Wars: Episode VII, to finally issue a press release on the subject. On Friday night. Well after what is widely accepted and known as Beer O'Clock amongst decent comics bloggers. So by the time I noticed it, I thought that the fine folks at the Disney Corporation had declared war upon us. And that they were sending J. J. Abrams to direct the attack, with Lawrence Kasdan and Simon Kinberg in consulting positions. And that, for some reason, they had sent two press releases side by side, and that they were coated with something that was making the room spin. Sure, more bourbon helped, but after that, I became convinced that Lucasfilm was trying to sell me some herbal Viagra. Things get a little hazy after that.
But it is morning now. The birds are singing, the sun is bright, and I have finished throwing up. And it turns out that, yeah: Disney and Lucasfilm has confirmed that J. J. Abrams has signed on to direct the new Star Wars movie after all. We've got the press release after the jump… and here's hoping that it treats you better than it did me last night.
J.J. Abrams to Direct Star Wars: Episode VII

J.J. Abrams will direct Star Wars: Episode VII, the first of a new series of Star Wars films to come from Lucasfilm under the leadership of Kathleen Kennedy. Abrams will be directing and Academy Award-winning writer Michael Arndt will write the screenplay.

"It's very exciting to have J.J. aboard leading the charge as we set off to make a new Star Wars movie," said Kennedy. "J.J. is the perfect director to helm this. Beyond having such great instincts as a filmmaker, he has an intuitive understanding of this franchise. He understands the essence of the Star Wars experience, and will bring that talent to create an unforgettable motion picture."

George Lucas went on to say "I've consistently been impressed with J.J. as a filmmaker and storyteller.  He's an ideal choice to direct the new Star Wars film and the legacy couldn't be in better hands."

"To be a part of the next chapter of the Star Wars saga, to collaborate with Kathy Kennedy and this remarkable group of people, is an absolute honor," J.J. Abrams said. "I may be even more grateful to George Lucas now than I was as a kid."

J.J., his longtime producing partner Bryan Burk, and Bad Robot are on board to produce along with Kathleen Kennedy under the Disney | Lucasfilm banner.

Also consulting on the project are Lawrence Kasdan and Simon Kinberg.  Kasdan has a long history with Lucasfilm, as screenwriter on The Empire Strikes Back, Raiders of the Lost Ark and Return of the Jedi. Kinberg was writer on Sherlock Holmes and Mr. and Mrs. Smith.

Abrams and his production company Bad Robot have a proven track record of blockbuster movies that feature complex action, heartfelt drama, iconic heroes and fantastic production values with such credits as Star Trek, Super 8, Mission: Impossible Ghost Protocol, and this year's Star Trek Into Darkness. Abrams has worked with Lucasfilm's preeminent postproduction facilities, Industrial Light & Magic and Skywalker Sound, on all of the feature films he has directed, beginning with Mission: Impossible III. He also created or co-created such acclaimed television series as Felicity, Alias, Lost and Fringe.
Like we said when the rumors about Abrams's involvement in Star Wars, the guy gives good space opera based on his work on 2009′s Star Trek, where he wasn't afraid to turn his back on that property's conventions to make it more like Star Wars. Which means that the smart money is that Star Wars: Episode VII will be a bloodless, science-intensive tale about the Millenium Falcon meeting God somewhere outside Kessel… and it turns out that God's a baby! When he's not a robot! Or the guy from the 1970′s Spider-Man show!
Actually, this is really good news… so I don't understand why Disney saw fit to fucking bury it while everyone who might write about it is guaranteed to be drinking away their parents' disappointment in them. Perhaps tonight, Disney can announce the second coming of Jesus while I'm struggling with the double-ended effects of grain alcohol Jell-O Shots.
(via Collider)