Hype, The Final Frontier: New Star Trek Into Darkness Talking Head Video
on
January 30, 2013
at
7:55 am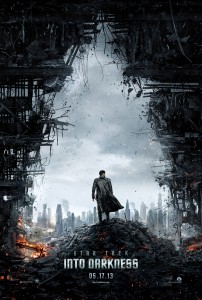 It has been a busy week here at the Crisis On Infinite Midlives Home Office; our neighbors seem to have decided to leave Boston for the winter to avoid the stretch of zero-degree weather we had the last week. They also apparently decided to save themselves a big gas bill by leaving their heat off, which is something that all plumbing enjoys during zero degree weather. So we have been plagued with inspections for water damage and potential burgeoning Black Mold by firefighters and building managers, all who whom espoused concern about our health while nervously eyeing the office stashes of whiskey and cigarettes.
We have a tentative All Clear call, so hopefully our posting schedule will return more to normal soon. But we only have time this morning to provide you with the latest hype video for J. J. Abrams's Star Trek Into Darkness… which is basically a replay of the original trailer with a bunch of people involved in the movie waxing orgasmically over the experience of working on the film. Which you can check out after the jump.
Well, at least no one said, "…and wouldn't I make an excellent Jedi Knight?" directly to Abrams's face.
So yeah: not a lot of new information there, other than the fact that the production apparently was handing out thick-framed hipster glasses at the set door, and that someone will be Roofied at some point during the movie. But still: this kind of pre-promotion for the movie is important, if only to keep people excited about the flick, to hopefully get the rubes drooling over the concept of spending an extra five bucks to see it in 3D… and to get people distracted enough to stop shrieking questions to Abrams about Star Wars.
Now if you'll excuse me, I feel The Force flowing through me… man, I probably shouldn't have eaten that stuff growing on the common wall with our neighbors.
(via Bleeding Cool)