Bigger, Stronger, Faster: Boston Comic Con, Day One
on
August 3, 2013
at
11:19 pm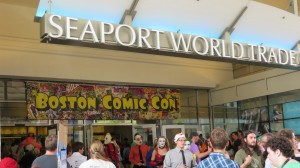 Jesus Christ, I wasn't expecting that.
In the times that I have attended Boston Comic Con in the past, it has been a nice little regional convention. Sure, in the past few years, it has attracted some A-List talent like Tim Sale and Geof Darrow, but generally, those guys have stayed at their tables on the floor, and while some of them might have attracted a decent individual line or two, it didn't affect the little regional convention as a whole. Which meant that you could walk in off the street, wander up and buy a ticket at the door within thirty seconds on a whim, comfortably wander the floor at your leisure to see everything you want, spend a bunch of quality time with every creator you could make eye contact with, and leave within a couple or three hours, comfortable you've seen everything there is to see.
And frankly, that was what I was expecting this morning, when we got to this year's delayed opening of the Boston Comic Con. Sure, the convention had picked up one or two more high-toned guests like DC Comics' Publisher Dan DiDio and Batman writer Scott Snyder, but thanks to the delay created by the Marathon Bomber, the convention was being held at the Seaport World Trade Center – a much bigger venue than the originally-booked Hynes Convention Center – so there should have been plenty of room to handle the expected demand for a little regional convention, right?
Yeah, right… except it seems that 2013 was the year that Boston decided that it no longer wanted a little regional convention. By noon today, the main floor of the convention, even at this bigger venue, was like walking the floor at San Diego Comic-Con on any given Saturday, and every volunteer on the floor – who thought they were signing on to wrangle a nice little regional convention – looked like they had suddenly realized that they had signed on to be the local intern guide for Galactus.
At least for today, Boston Comic Con was not a nice little regional convention. It was a major convention with world-class talent and a comparably excited and enthusiastic crowd that could hold its head up with any convention short of San Diego and New York…
Even if the people running the convention weren't completely prepared for it.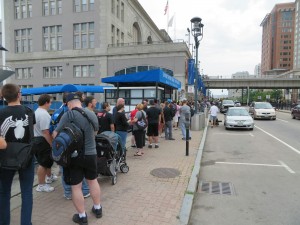 The doors for Boston Comic Con were expected to open at 10 a.m., so we (and by "we," I mean 4/5ths of the Crisis On Infinite Midlives staff – Amanda, Trebuchet, Pixiestyx and myself connected to attend) arrived at 9:15 a.m. under the assumption that it would give us time to park easily, get a cup of Dunkin' Donuts coffee (important for those of us from the Boston area), and then saunter sleepily into a short line with a few other ticket pre-purchasers to walk easily onto an empty floor when the doors opened.
That is not what happened.
When we arrived at the Seaport World Trade Center, we saw this line to the left of the center, extending more than a block from the doors to the center. Trebuchet and Pixiestyx grabbed a place in the line while Amanda and I went to the Dunkin Donuts next to the center to obtain a rack of coffee, tea and mocha-flavored coffee-flavored candy drinks.
While Amanda and I waited for caffeinated awesomeness, Trebuchet pinged us via text message to let us know that we were in the wrong line; the line for ticketed attendees was to the right of the entrance.
Thankfully, Trebuchet advised us that that line was much more reasonable than the one we had previously entered. Shamefully, there are times that Trebuchet doesn't know his ass from a hole in the ground. Because this was the line we wound up in: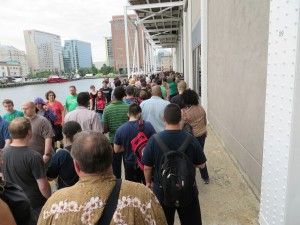 Again: this was the line for what has always been a nice little regional convention: at more than half an hour before opening, the line went around the corner of a block-wide building, and halfway back the building itself and a goodly way into Boston Harbor itself. And Boston Harbor is not a place where you want to hang out unless you have a rarified taste for Polonium and / or human feces.
To the initial credit of the Boston Comic Con staff, the structure and focus of the line made perfect sense at 9:30 a.m. When we got to the back of the line, there was a convention staffer with an iPhone scanning our pre-printed tickets to give us our wristbands to prove our registration to the convention. After that, we simply waited until 10 a.m., and once the doors opened, we walked the line and were on the floor by earlier than ten minutes past 10…
…but then again, that was us. We saw a bunch of people on Twitter with pre-paid tickets who arrived in line after 10 a.m. who complained on Twitter that they waited in line for more than an hour to get a wristband, even while some people in the To-Pay line to the left were able to buy in and hit the floor quicker than them. Now, I can't address those complaints – we got in quickly, and with a minimum of fuss – but the fact that there were complaints of that kind from people who spent their money up front should be something for the Boston Comic Con people to consider in the future.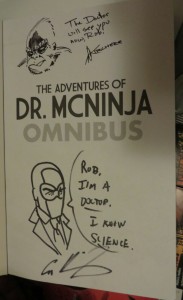 Getting onto the floor almost at opening was pretty damned glorious. The floor at Boston Comic Con was maybe about 1/8th the size of the floor of the San Diego Comic-Con, but it had a good mix of comics and toy retailers, a few publishers (Boom and IDW Publishing had booths there), and a healthy Artists' Alley that encompassed about a quarter of the entire floor. And getting there early, while much of the attending crowd was still negotiating the lines, meant we could traverse the floor with plenty of room to wander, talk to people, and get friendly sketches at creators' tables (I got Kent Archer, the former inker of Dr. McNinja, to sketch Judy in my copy of the Dr. McNinja omnibus that writer / penciler / current inker Christopher Hastings sketched in at SDCC last month. And it is awesome.).
So we wandered the floor, made note of artists from whom we might like to obtain some original art, and t-shirt vendors from whom we might like to obtain a visual message with which we can convince strangers we are witty, and after an hour and a half, left the center to obtain some lunch.
This was a mistake.
By the time we returned to the floor an hour or so later, much of the line situation had resolved itself… meaning all of those people waiting in line were on the floor. And there were quite a lot of people in those lines, which meant that there were quite a lot of people on the floor. Which, in turn, meant that the floor was an apocalypse.
After noon, walking the main floor of the convention was like walking the floor at SDCC on a Saturday. There was no room to move whatsoever; as I've said before (only about SDCC on a Saturday), walking the floor was a stutterstepped shuffle, as if we were all trying to move without attracting a sandworm. Artists we could chat with with impunity an hour earlier were now surrounded by excited fans, and by the time we made it to the table selling those Tim Sale-designed Boston Comic Con shirts we've been showing on this site since last March – two hours after the convention opened – the only size they still had in stock was Men's XXXL (that's three X's). Thankfully, since I enjoy beer and beef, that size is only slightly too large for me.
In general, the area around the floor and the World Trade Center itself was a bloody fucking mess. By the afternoon, the line at the concession stand on the floor looked like the triage section of the Justice League Trauma Center. The 7-Eleven next door to the convention center had a 30-minute line, meaning if I still smoked real cigarettes, I'd have been imprisoned for felony mayhem 27 minutes before I could spend any money. People were sitting mutely and exhausted against the outside wall of the convention center, eating 7-Eleven hot dogs and praying for adrenaline injections… but most of the people at the Boston Comic Con haven't learned the lessons of the San Diego Comic-Con, which include the reality that if you move a block away from the main drag, you can rest and relax.
Which we did, for about half an hour on a completely quiet and silent park bench in an alley, before heading back to the floor to try to attend the 3 p.m. DC Comics panel… and where we discovered that we had learned a lesson from SDCC that the people at the Boston Comic Con haven't learned: how to deal with a panel crowd.
You see, at SDCC, they never clear the panel rooms between shows. And the people minding the door keep visual track of how many seats are available at any given time, so they only let as many people in as there are seats. And this is a lesson that has not been learned at Boston Comic Con… probably because they have never needed to learn it. Today, it seems that the Boston convention people tried to clear the room before the DC panel, and allowed the earlier participants to file out and stay in the vestibule until someone gave the order to let people back in. Meaning that a line full of people had no idea that they were fucked before they even tried to file in… and further meaning that we, and about 50 people after us, were allowed to file into a room we couldn't be in without anyone even intimating that the panel was full. So for a few minutes, about thirty or so people wandered around the back of a room that any half-competent fire marshall would have kicked us out of before we came to terms with the fact that we should simply simper off and find something else to do.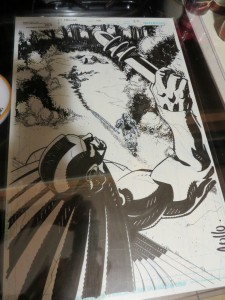 And so we did. What we did was hit an ATM so I could buy a sweet piece of Cully Hamner art – an unpublished page from the first draft of James Robinson's The Shade #1, with Deathstroke walking away from The Shade's decapitated body under the watching yet unseeing eyes of the statue of Starman – and then stumble and pick our way through the unbelievable crowd and toward the car, and eventually a bar.
Amanda and I will be returning to the convention tomorrow, this time prepared for a convention that seems to have finally and rightfully captured the imaginations of the geek population of Boston. And with that knowledge, we will endeavor to hit a panel or two so we can report some comics news beyond the simple facts of attending a comic convention…
…although I'm not sure there's any news we can report from the Boston Comic Con that's more exciting than the fact that it was simply too big and too exciting to be able to report on anything. When we last attended this convention four years ago, it was, at best, a half-day proposition. As of today, Boston's fandom has announced that the Boston Comic Con is a big deal. We like having a convention with some heavy hitters to meet, and we like having a convention where you can do some cosplay, buy some killer original comic art, and get a little news from some publishers. And it seems that we suddenly have one of those conventions, even though nobody was expecting it.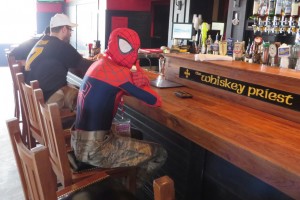 And we can handle that sudden excitement, and the occasional headaches that come with it, for now. And we will handle it tomorrow, when Amanda and I return and adapt and attend a panel or two. And hopefully the guys behind the convention adapt as well. Because in one day, this town has shown it wants a world-class comic convention. And for the most part, they have delivered one… within the context that last year, they just wanted a good comic convention.
So, as a comics writer, let me act as a middleman: dudes in charge of Boston Comic Con – build and book it like 25,000 people are gonna show up. And people considering booking space at Boston Comic-Con: book space like 30,000 people are gonna attend. And if everyone keeps doing that, soon people in New England won't need to fly to San Diego to go to a convention that other geeks are jealous they attended.
While we are disappointed we couldn't attend a panel we could report on, we are ecstatic that Boston Comic Con was big enough that we couldn't attend that panel. Let's hope tomorrow is big enough to give us some of those same disappointments.