My First Comic Con: A Boston Comic Con Report From A Convention Virgin
on
August 8, 2013
at
12:03 pm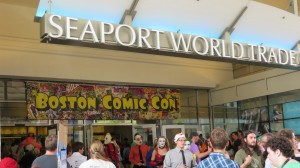 For some time now Rob and Amanda have been trying to talk Trebuchet and me into attending San Diego Comic-Con with them, making their case with enticing details such as:
"You can't really walk there. It's more of a shuffle-step. Be prepared to throw an elbow."
"The only place you might get trampled to death is the toy floor."
and, most disturbing: "There's no Dunkin Donuts."
While we haven't quite worked up the enthusiasm to fly cross-country and spend five days in the middle of a mob, we did think it was time to check out the much closer (though still two hours away) Boston Comic Con. If you have read Rob's and Amanda's recaps, this was not the tiny regional con we anticipated – but as it turned out, in spite of the growing pains, the unexpected crowd actually made the event more exciting.
If you're first-time con-goers like us, I highly recommend planning to arrive at least 30-40 minutes before the doors open. By arriving early we had plenty of time to find cheap(er) parking, grab Dunks to fortify ourselves for the day, find the wrong line, find the right line, find the end of the pier line, exchange tickets for wristbands, and then just relax and wait for the line to move. We were on the floor 10 minutes after the doors opened, with plenty of time to slowly scope out a good percentage of the tables before the crowds moved in.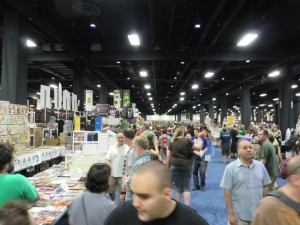 This was especially helpful for Trebuchet and me because we were not familiar with all of the artists/vendors in attendance. We were able to check out tables at our leisure and not be pushed along by the crowds. It was much tougher later in the day to leave the center of an aisle and get next to a table to speak with an artist/vendor or make a purchase.
At the recommendation of Amanda and Rob, we took an assessment lap around the floor before making any purchases. This really helped to make sure we were spending our cash on items that we really wanted instead of impulse buying every cute stuffed animal and clever t-shirt on the floor.
After our first go-round we had a pretty good idea of what we were interested in. I knew that I wanted to take a closer look at the art of Sara Richard and Chrissie Zullo who had both worked on one of my favorites – Womanthology. Both had also made an appearance at our local shop in April, when several comic stores in the region offered to host artists who had already traveled to the area prior to BCC's last-minute cancellation. Richard and Zullo each had gorgeous prints and original artwork for sale. I wandered over to Zullo's table while Trebuchet waited to buy a print from Richard. I happened to have her table to myself to peruse her work, but feeling overwhelmed by the crowds and energy on the floor, completely forgot to take a moment to tell her how much I loved her art in The Wind in Her Hair, a Womanthology: Space #5 short written by Allison Pang.
Later on we also picked up a couple of small pieces from Karen Hallion featuring Stitch/Jayne and Calvin/Wash mash-ups; as well as a BCC 2013 exclusive Teenage Mutant Ninja Turtles print from Michael Dooney. Everyone that we spoke with was fantastic and seemed sincerely happy to be interacting with fans.
Originally we had also planned to stick around for the 6 p.m. Female Creators panel, but around 3 p.m., after not even coming close to getting seats for the DC Comics panel, I started to wonder how grouchy I'd be if we hung around for another three hours and decided to wrap up the day. While I would have liked to have taken time to look more closely at some of the indy books and art we saw, we had already toured the floor twice, bought all of our purchases, and taken a couple of breaks outside of the convention center, and quite honestly, the crowd had just become a tad too much for me to deal with.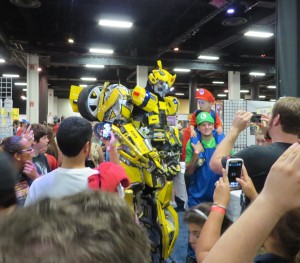 If there had been a few more panels to choose from during that period so we could sit and rest a while, I may have decided otherwise. Based on our bad experience with the DC panel line however, waiting in additional lines seemed like a risky proposition. The BCC all-day indy film festival would have been another option, except that we completely forgot about it since we neglected to pick up a schedule when we arrived that morning and there was no signage or mention of it anywhere. (@Trebuchet: There was an indie film festival?!) (Editor's Note: Yeah, there was. And around that time, they were playing an indie movie about Canadian LARPers. Considering how you feel about LARPing, it would have been just the thing for a restful nap.) Three hours was going to be a long time to just hang around waiting, and by that time others who were already sitting and waiting or taking breaks from the floor had filled in the eight lobby chairs and empty floor space.
In spite of the hiccups with the small number of panels and small panel rooms, we still had a great time. There were a lot of interesting artists and vendors, and it was fun to see the energy that came along with the unexpectedly large crowd. Hopefully the organizers have paid attention to the problems and are working on solutions for next year, because I would love to see this show continue to grow and expand. We enjoyed it enough that if this growth leads to additional programming next year, we would probably consider getting a hotel room downtown so that we could easily attend both days.