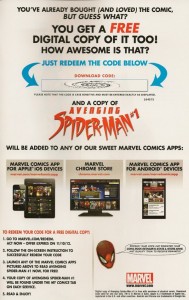 Okay, so: digital comics! I think I've established that I'm not really a fan of the concept of digital comics. I like my weekly Wednesday trip to my local comics store, where my local comic store owner, who knows me by name and asks me if I've ever been told that pants are an always choice, hands me my books and recommends new ones for me.
However, Marvel was good enough to give those of us who bought Avenging Spider-Man #1 last week a code we could use to redeem for a free digital copy of the book. And as much as I like my stack of books every week, if I'm honest with myself, I've always considered myself an early adopter. And while I might be lurching into middle age, I like to believe it's not so far in that I'm unwilling to try new things. Because if I am, it's time to scratch "threesome" off my list and tag the list's title with "bucket."
So let's download us a comic!