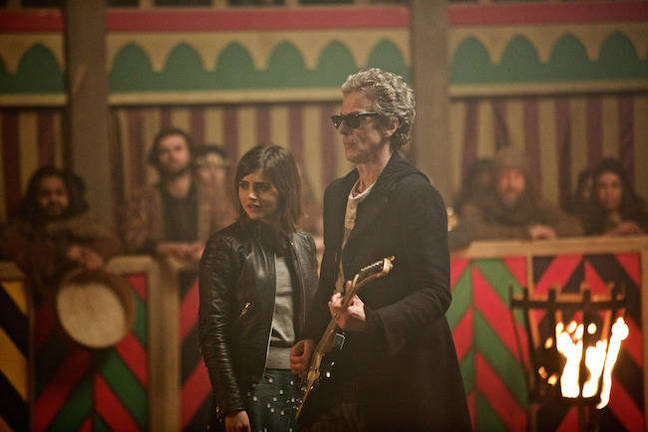 After weeks of renovations here at the All-New, All-Different Crisis On Infinite Midlives Home Office, we had a relatively quiet few days for a change. So we took the opportunity to catch up on Doctor Who season 9, the second with Peter Capaldi as The Doctor and the last with Jenna Coleman as Clara, although unlike when other Companions have made their curtain calls, I suspect we'll be seeing Clara again. Soon.
So we spend a good chunk of the episode talking about the season, including its two-episode story structure, the circumstances of Clara leaving The Doctor, why putting a gun in The Doctor's hand is lazy writing, why Maisie Williams would make an excellent Doctor, and how showrunner Steven Moffat apparently thinks there's a Jackrabbit Slims on every street corner in America. Most importantly, we lay out why penultimate episode Heaven Sent is a an unholy plot-holed mess in The Girl Who Waited clothing.
We also discuss:
Scarlet Witch #1, written by James Robinson with art by Vanesa Del Ray, and:
Constantine The Hellblazer #7, written by James Tynion IV and Ming Doyle, with art by Brian Level and Riley Rossmo!
And now, the usual disclaimers:
We record this show live to tape, with minimal editing. While this might mean a looser comics podcast than you are used to, it also means that anything can happen. Like discussing whether Maisie Williams's character had an unfortunate encounter with stripper glitter, a Bedazzler or a nose piercing.
This show contains spoilers. While we try to shout out warnings ahead of time, be aware that there are reasons we discuss who would be the best actress to portray a female Doctor.
This show contains adult, profane language, and is therefore not safe for work. You want your employer to hear what is aggressively pouring out of John Constantine's drain? You do not. Get some headphones.
Podcast: Play in new window | Download (Duration: 1:30:51 — 83.2MB)
Subscribe: Apple Podcasts | Android | Google Play | Stitcher | TuneIn | RSS | More
Thanks for listening, suckers!