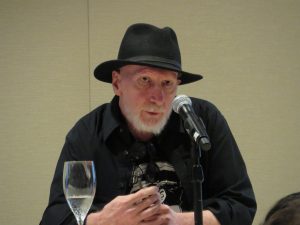 It's been a week since the conclusion of Boston Comic Con 2016, and we're still coming to terms with the fact that we saw Frank Miller speak live.
We have a complicated relationship with Frank Miller here at Crisis On Infinite MIdlives. We will always love him for what he did with Daredevil and Batman in the 1980s, helping to bring comics into adulthood at the same time we were moving through our own adolescence. We will always respect him for doing cool stuff like Give Me Liberty and Robocop Vs. Terminator in the mid-1990s. And we will always be concerned about him due to his public statements about Islam, and there will never be a force on Earth that will make us really like Holy Terror.
But no matter what, the man is a legend in comics, and we were not only there to see him, but to record him. So we're psyched to be able to bring you panel audio of Miller himself, talking about his Dark Knight trilogy, Sin City, Daredevil and what it was like to be at the forefront of comics during the 1980s.
We also discuss:
Civil War II: The Fallen #1, written by Greg Pak with art by Mark Bagley, and:
Demonic #1, written by Christopher Sebela with art by Niko Walter!
And, as always, the disclaimers:
This show contains spoilers. If you're not aware which Gamma-irradiated founding Avenger was shot in the brain by Hawkeye, well, then you're not reading Marvel Comics anyway, and you won't care.
This show contains adult, profane language, and is therefore not safe for work. One of our possible titles involved Amanda using the convolutedly-spelled word "sidebewb". You should probably use headphones.
Podcast: Play in new window | Download (Duration: 2:11:20 — 126.8MB)
Subscribe: Apple Podcasts | Android | Google Play | Stitcher | TuneIn | RSS | More
Thanks for listening, suckers!