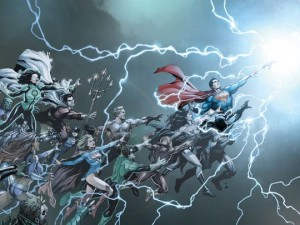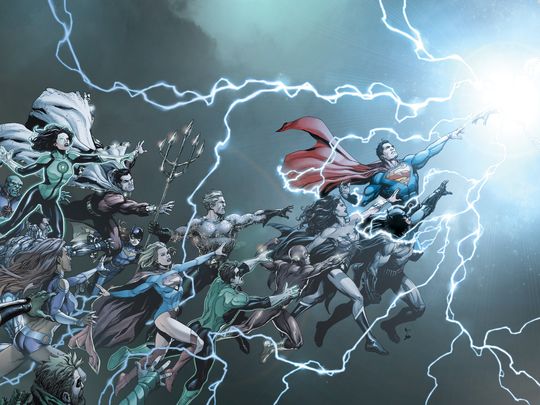 Here's a warning about this week's episode right out of the gate: details about DC Universe: Rebirth #1 have leaked to Reddit, including images from that issue. The user who leaked the pages has since deleted his or her account, but those images have been picked up and published by Bleeding Cool (Seriously: there are massive spoilers at that link, so beware), and have led to major spoilers about the book being published across the comics Internet. And those images and spoilers contain a revelation that is not only startling, but infuriating, if not downright rage-inciting, for fans of a particular classic comics property. Like, we sat down to plan this week's show, found this news item, and chucked everything so we could fume about this move. It stands to possibly be bad, bad mojo for fans of DC who date back to the 1980s.
And we talk about that revelation. So if you want to avoid spoilers for DC Universe: Rebirth #1, you should avoid listening to this week's episode until you pick up this week's comics on Wednesday, May 25th. But if you're not concerned about spoilers, and you care about the legacy of one of the great superhero comics works of the last thirty years, jump on in! We'll never compromise! Not even in the face of Armageddon!
We also discuss:
Future Quest #1, written by Jeff Parker with art by Evan "Doc" Shaner and Steve Rude,
Chilling Adventures of Sabrina #5, written by Roberto Aguirre-Sacasa with art by Robert Hack, and:
Civil War II #0, written by Brian Michael Bendis with art by Olivier Coipel!
And, the usual disclaimers:
This show contains spoilers. Like, terrible spoilers for DC Universe: Rebirth #1. So if you don't want to have the terrible spoiler revealed, it's up to you. I leave it entirely within your hands.
This show contains adult, profane language, and is therefore not safe for work. If your version of The American Dream is to get fired for listening to bad language at work, it'll come true. You're looking at it.
Podcast: Play in new window | Download (Duration: 2:02:58 — 120.2MB)
Subscribe: Apple Podcasts | Android | Google Play | Stitcher | TuneIn | RSS | More
Thanks for listening, suckers!