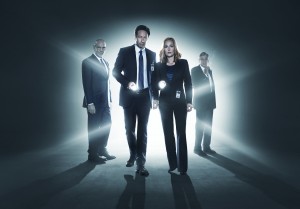 Sorry for last week's unexpected absence, but something unexpected made its way into our home and made us feel terrible. And on a completely unrelated note…
A couple of weeks ago brought us the conclusion of the much-anticipated return of The X-Files. Presented as six episode miniseries meant to function as an official tenth season of the original series (down to the original, shot-on-video opening credits), the event was intended to satisfy both long time fans and newer viewers alike. Meaning that we were the entire target audience – Amanda watched the show from the first episode, whereas Rob has only seen the first couple of seasons on DVD and the movies.
So we talk about the things about the season that worked, the things that unexpectedly delighted us, the elements that were more distracting than anything else… and the things that were simply, truly, irrevocably awful. And while we didn't agree on everything, there is one thing in which we are lockstep: of all the things that work in The X-Files, Chris Carter should be George Lucas'ed into the cornfield, Disney style.
We also discuss:
The Walking Dead #152, written by Robert Kirkman wih art by Charlie Adlard,
Green Lantern #50, written by Robert Venditti with art by Billy Tan and Vicente Cifuentes, and
Black Widow #1, written by Mark Waid with art by Chris Samnee!
And, the disclaimers:
As we said: we were sick last week. So you're going to hear more coughing and sniffling than normal. We apologize.
This show contains spoilers. While we try to yell out warnings ahead of time, be aware that we will ruin the ending of The X-Files more thoroughly for you than Chris Carter did. Actually, that's not possible.
This show contains adult, profane language, and is therefore not safe for work. Do you want your employer to learn how to violate millions of television viewers with a move I like to call the Sudden Stem Cell Trespass? Then get some headphones.
Podcast: Play in new window | Download (Duration: 1:45:42 — 98.4MB)
Subscribe: Apple Podcasts | Android | Google Play | Stitcher | TuneIn | RSS | More
Thanks for listening, suckers!