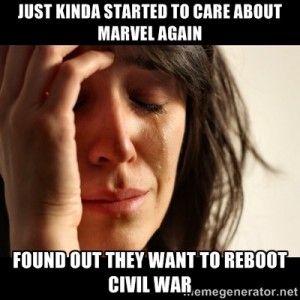 Of all the weeks to be running into issues every time Rob and I want to sit down and try to bang out the damn podcast.
So, you may have noticed for the last couple nights we've thrown up a quick site business to explain the delay of our typical Sunday night podcast, which tens of you have come to know and rely on. If it wasn't full on internet drought in the wilds of northern New England (and, frankly, how dare the White Mountains have no fucking Wi-Fi, amiright?), it was traffic and travel related. Tonight? Skynet. No, but seriously, Rob has run into an issue at his job he needs to stay ridiculously late for. I'd do the podcast myself, but I think we all know that while I'm good at saying really awful things at inopportune times, the show really needs Rob's dick jokes to bring the whole thing into full focus. They say write about what you know and I am, well, dickless. It's true. I checked.
It's absolutely the worst time to find life hamstringing us like this; there are a lot of really interesting stories that have come out of New York Comic Con. For example, the attendance numbers at NYCC reportedly exceeded those of the San Diego Comic-Con. This year, 151,000 separate attendees all washed up on the doorstep of the Javitz Center. That is 21,000 more than San Diego. Given the crush of humanity that is the SDCC experience, I can only imagine what it must have been like to try to move around in that. It's a mixed blessing. As more and more folks come out to see what all the geek fuss is about, the harder it is to actually get around to see all the panels, pros, vendors, and general weirdness that we're all coming out to celebrate. NYCC has already set a date next year for October 8-11, 2015. The good news for folks who are specifically out to celebrate comics culture though is that there will be a special comics oriented edition in June on the 13th and 14th. This is actually a trend I'd like to see continue for some of the bigger cons. I hope it is a sign of more mindfully planned, better targeted convention experiences for fans going forward.
And then there is some of the news coming out of comics entertainment press in the past couple days.