on
June 6, 2014
at
5:08 pm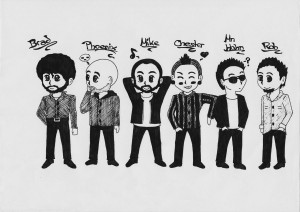 So, MTV has decided that it needs to up its presence at Comic-Con. This year it will hold something called the mtvU Fandom Awards and a MTV Fan Fest. Here, let them tell you about it:
Grammy-winning rock band Linkin Park will headline the first ever mtvU Fandom Awards and MTV Fan Fest, both of which will be held on Thursday, July 24, at Petco Park during San Diego's Comic-Con. Then on Sunday, July 27, at 8 p.m., on the final day of Comic-Con, MTV and mtvU will air the 60-minute mtvU Fandom Awards special, showcasing the musical performances from the Linkin Park-headlined show, and honoring all of the fans whose passion have swept across the globe, stemming out of Comic-COn.

"The mtvU Fandom Awards will reinvent the traditional award show format," says executive producer Ryan Kroft. "In addition to handing out trophies, we will recognize the achievements of fans and their favorite obsessions with special surprises and experiences. It's the perfect event to reward the fans at Comic-Con, the epicenter of all fandoms."
Yes, because when I think of nerd fandoms, so often my mind immediately turns to MTV…and Linkin Park. Not.
It seems between this and Zachary Levi's Nerd HQ, which we talked about here, Petco's going to be hopping for the duration of the convention.
↓ Read the rest of this entry…