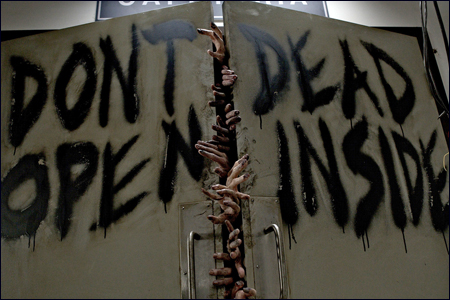 After a long week of hunting for possible new locations for the Crisis On Infinite Midlives Home Office, we were finally able to sit down and watch the premiere episode of the new AMC spinoff to The Walking Dead, Fear The Walking Dead.
We had reservations about the show going in, such as fears that this might be where we discover what caused The Walking Dead's walkers to start walking, or that a show about the beginning of a zombie apocalypse would be nothing but a new take on a story we've seen in Night of The Living Dead, Dawn of The Dead, and about two dozen different video games, or that a show about the beginning of the end would inevitably become a story about what happens after the end… and we already have that show.
Thankfully, none of those failure were evident. Unfortunately, many others, including inconsistent direction and writing, and a reliance on horror movie tropes of the kind you see on Netflix at 3 a.m. when you're drunk and bored. And we talk about all of them… as well as the stuff that we liked, and gave us hope that there's more to this show than the flaws in its pilot.
We also discuss:
Lando #3, written by Charles Soule with art by Alex Maleev, and:
Hank Johnson: Agent of Hydra, written by David Mandel with art by Michael Walsh!
And, as always, the disclaimers:
We record this show live to tape, with minimal editing. While this might mean a looser comics podcast than you are used to, it also means that anything can happen. Like learning the secret ingredient in Amanda's hummus, and why it would offend

Cthulhu

.
This show contains spoilers. While we try to shout out warnings ahead of time, consider this your alert that Lando Calrissian was not eaten to death by a space vagina.
This show contains adult, profane language, and is therefore not safe for work. Once your mom hears the Sarlacc described as a space vagina, she will never be able to unsee it. So get some headphones.
Editors' Note: We are currently not planning to release a new episode on Sunday, September 6th (although if our schedule changes for the better, we may). Regardless, we will be back to our regularly scheduled programming on Sunday, September 13th.
Podcast: Play in new window | Download (Duration: 1:41:08 — 93.0MB)
Subscribe: Apple Podcasts | Android | Google Play | Stitcher | TuneIn | RSS | More
Thanks for listening, suckers!