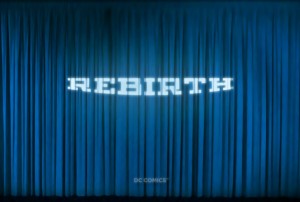 It's been a couple of weeks since DC Comics Co-Publishers Dan DiDio and Jim Lee tweeted their first teasers toward something called "Rebirth," and  since then, there has been, well, absolutely no concrete hard news whatsoever.
But what there are are rumors. Many, many rumors. From where did the rumors originate? Who knows? But rumors there be, about book cancellations, creative team changes, new books, new first issues, and partial to total reboots. So we talk about them, kick around which sound like good ideas, which seem like terrible mistakes, and wind up in a short-term, love-hate bromance with Dan DiDIo.
We also discuss:
Batman: Europa #4, written by Matteo Casali and Brian Azzarello, with art by Gerald Parel, and:
Spider-Man #1, written by Brian Michael Bendis, with art by Sara Pichelli!
And, the usual disclaimers:
We record this show live to tape, with minimal editing. While this might mean a looser comics podcast than you are used to, it also means that anything can happen. Like finding a very valid, but… shall we say, alternative, use for your comics.
This show contains spoilers. While we try to shout out warnings ahead of time, be aware that you might find out that Batman talks like Phillip Marlowe, and why that's maybe not a great idea.
This show contains adult, profane language, and is therefore not safe for work. You want your boss to find out what "Gank the wingman" means? Then get some headphones.
Podcast: Play in new window | Download (Duration: 1:22:48 — 77.1MB)
Subscribe: Apple Podcasts | Android | Google Play | Stitcher | TuneIn | RSS | More
Thanks for listening, suckers!