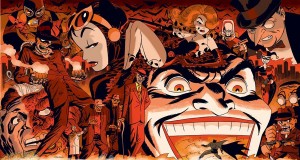 It's the week before Christmas, and all through the house, not a creature was stirring… including anyone who might generate much in the way of comics news.
However! DC sneaked a bunch of cancellations into their March solicitations, including a few books that have been around since the start of the New 52. And since it is a slow news week, and since March is the last month before the Convergence event brings all of DC's eras into the spotlight, and since we are comic geeks who like to speculate, we take the opportunity to review the cancellations and talk about what DC might have in mind post-Convergence.
And since Christmas is right around the corner, we take the opportunity to reminisce about the geek and genre-related toys that we were given as children back in the 70s and the 80s. We hit some of the biggies, like Maskatron, the Millennium Falcon playset, Energized Spider-Man, Magnetic Batman and Robin… and in Amanda's case, everything a child might need for a life on the Hobo Trail.
And finally, we discuss:
Justice League #37, written by Geoff Johns with art by Jason Fabok, and:
Batman #37, written by Scott Snyder with art by Greg Capullo!
And the disclaimers:
We record this show live to tape. While that mean a looser show than you are used to from other comics podcasts, it also means that anything can happen. Like an unexpected reminiscence about a shattered childhood.
This show contains spoilers. While we try to shout a warning ahead of time, proceed with caution.
This show contains adult, explicit language, and is therefore not safe for work. However, there's every chance you're on vacation for Christmas this week, and if not, maybe Santa will bring you a new set of headphones.
Podcast: Play in new window | Download (Duration: 1:58:19 — 107.2MB)
Subscribe: Apple Podcasts | Android | Google Play | Stitcher | TuneIn | RSS | More
Enjoy the show, suckers!
Oh, and here's that sweet, sweet Rob Liefeld jeans ad from the early 90s: