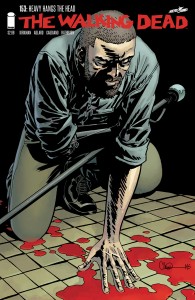 We have been fans of The Walking Dead since the seventh issue of the comic book. That means that we have hung in with Rick Grimes and company, and their doomed world, for literally almost twelve years. We've stuck with them through prisons, and horrors performed in Woodbury, and the semi-friendly takeover of Alexandria, and All-Out War, and The Whisperers. For more than a quarter of our lives. Which meant we were surprised last week, after the conclusion of season six of The Walking Dead series, the opening of Fear The Walking Dead season two, and the release of the comic's 153rd issue, when Rob said he might not have the wherewithal to watch these people take a beating anymore.
So this week, we examine the state of The Walking Dead. From the TV show's introduction of Negan and the extended beating that probably means for Rick and company, to Fear The Walking Dead and how its prequel nature means that we will be spending 18 episodes with people we know are doomed to wind up in the world of The Walking Dead no matter what they try, to the comic and its reintroduction not only of Negan, but his "costume" and weapon. And we discuss whether the story, in all its incarnations, has finally become so bleak, depressing and hopeless to want to follow. And we talk about whether the comic book has been transformed from a story into a property, making it impossible to ever end in a satisfying manner.
We also discuss:
Moon Knight #1, written by Jeff Lemire with art by Greg Smallwood and Jordie Bellaire, and:
Jackpot! #1, written by Ray Fawkes with art by Marco Failla!
And, the disclaimers:
This show contains huge spoilers for the end of The Walking Dead season six, the opening of Fear The Walking Dead season 2, and big ol' chunks of the Walking Dead comic. While we try to shout out warnings ahead of time, be aware the we will ruin the fact that the world of The Walking Dead is a stone cold bummer.
This show contains adult, profane language, and is therefore not safe for work. You want your boss to learn about "The Thighs of Death"? Then get some Headphones of Continued Employment.
Podcast: Play in new window | Download (Duration: 1:53:39 — 105.2MB)
Subscribe: Apple Podcasts | Android | Google Play | Stitcher | TuneIn | RSS | More
Thanks for listening, suckers!