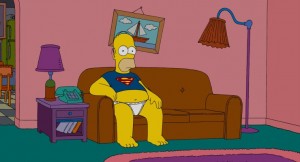 My God, it's a miracle: we're actually releasing a new podcast on our regularly-scheduled Sunday! Sure, we had to tape it on Saturday to get it done, and during a time when we were forced by circumstance to remain sober while we did it, but what the hell; it's a small price to pay for being able to rant about comics and pop culture on a predictable schedule.
In this week's episode, we discuss:
Television! Particularly, the announcements this week that Marvel's Agents of S.H.I.E.L.D. was renewed (and whether or not that is a good thing), and the announcements that various networks have picked up season orders of Agent Carter, Gotham, iZombie, Constantine, and Flash, and which shows we think might be good or horrible, depending on their direction
Moon Knight #3, written by Warren Ellis with art by Declan Shalvey
Miles Morales, The Ultimate Spider-Man #1, written by Brian Michael Bendis with art by David Marquez, and
Why you should never allow a kitten into a recording studio when you are, you know, recording.
And, a few notes (and please let us know in the comments if we mentioned something obscure and forgot to include it here):
The "Maurissa" whose name we were trying to remember was Maurissa Tancharoen, one of the showrunners for Marvel's Agents of S.H.I.E.L.D.
When we talk about Beacon Hill and Dorchester, you might not know that Beacon Hill is a Boston neighborhood populated almost exclusively by people who use the word "summer" as a verb, and Dorchester is a place where you go to witness or participate in a knife fight (it is the home neighborhood of Mark Wahlberg, so you know almost nothing good has come from there)
Finally, the nitty gritty pseudo-legalese:
This show may contains spoilers, and it may spoil something with no warning whatsoever (although we make an effort to chuck a "spoiler alert!" in now and again)
This show was recorded live to tape and is unedited, so there may be more "ums", pregnant pauses, and vile, ill-advised humor than you are used to from your everyday comics / pop culture podcast
This show includes the use of explicit and profane language, and is most decidedly not safe for work. Unless you have the kind of job that requires you to know what a "Tunguska Reacharound" is, in which case, listen away and feel free to tell your pimp that we think you deserve a larger cut of the take.
Podcast: Play in new window | Download (Duration: 1:08:18 — 62.6MB)
Subscribe: Apple Podcasts | Android | Google Play | Stitcher | TuneIn | RSS | More
Enjoy the show, suckers!