on
December 8, 2013
at
9:03 pm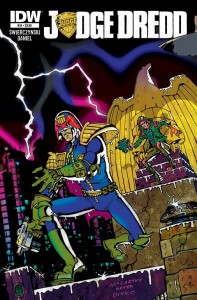 A couple of months ago, recognizing a gap in my comics history education and having a 20 percent off coupon from Barnes & Noble burning a hole in my pocket, I started reading 2000AD's Judge Dredd from the beginning. I picked up the first five volumes of Judge Dredd: The Complete Case Files, and have been picking up volumes one at a time since, getting up to volume eight so far.
So while I am by no means an expert on Judge Dredd, I have soaked up enough to have formed the opinions that Ron Smith is my favorite artist on the title other than Brian Bolland so far, that Walter The Wobot is a fucking stupid character, that Dredd should have ventilated The Judge Child as soon as he found him, and that based on the apparently constant appearances of The Fatties, those British comics creators have a fairly solid handle on American culture.
So while we have had IDW's adaptation of Judge Dredd by writer Duane Swierczynski in the house, it's been Amanda who's been picking it up. I haven't been reading it, because I figured they would hew closer to the recent Dredd movie than the original comics, and that they would go along the lines of DC's 1990s version of Judge Dredd, that took place in an entirely different continuity from the original 2000AD comics.
But I finally knucked and checked out Judge Dredd #14, and, well, I was half right. The IDW version of the book seems to take place in the 2000AD continuity, with at least a couple of familiar characters who won't necessarily mean anything to anyone who hasn't read some of the original books. And it gives us two stories that are pretty solid crime stories with sci-fi elements like body switching and psychic predictions that fit well into the overall Dredd universe.
It's a good comic, but it's only an okay Judge Dredd comic. Because it is missing something.
↓ Read the rest of this entry…