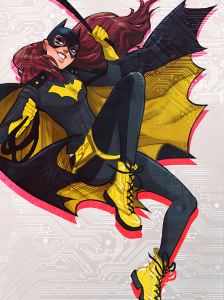 There has been another creative team change on Batgirl, by all reports due to editorial edict. So Amanda and I talk not only about the proposed new direction for the character, but we about the increasing influence over story and tone that editorial seems to have been gaining over creative teams as opposed to the early 2000s, when comics were doomed and writers and artists could seemingly do any damn thing they wanted if the sales numbers this month were higher than the ones from last month.
We are also just over a week away from San Diego Comic-Con 2014, so we talk about some of the scheduled panels, and how the wealth of content can make it infuriating, if not impossible, see everything you want at the show.
Finally, we discuss and review The Walking Dead #129, and Grayson #1!
And now the usual legalese:
We record this show live to tape. While that might mean some parts are a little rough around the edges compared to your regular comics podcast, it also means that anything can happen.
This show contains spoilers. We try to give a shout-out ahead of time, but we drink while recording. So tread lightly.
This podcast contains adult, explicit language, and is not safe for work. If you don't want your boss hearing us talk about how superhero costumes contain compartments for each boob, wear headphones.
Podcast: Play in new window | Download (Duration: 1:39:02 — 90.7MB)
Subscribe: Apple Podcasts | Android | Google Play | Stitcher | TuneIn | RSS | More
Enjoy the show, suckers!