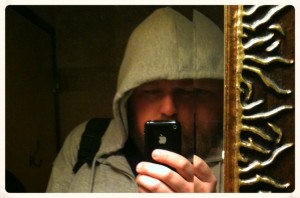 We're joined this week by Eisner Award nominated writer Christopher Sebela, who was gracious enough to spend well over an hour talking to us about his upcoming Boom! Studios comic We(l)come Back (with art by Jonathan Brandon Sawyer), as well as his work on High Crimes, Dead Letters, and Escape From New York.
Christopher talked with us about not only about the books themselves, but about some of the personal experiences he brought to the characters in them, some of the storytelling methods he favors in some books (and why he doesn't use them in others), and how he feels lucky to have worked with the artists he has. He also explained to us why it's so expensive to get vomiting drunk in Chicago, why we were suckers to get vomiting drunk in Chicago, and why he favors writing about damaged people like the kind who like to get vomiting drunk in Chicago. It was an interesting and wide-ranging conversation, and we're pleased to bring it to you.
(And by the way: the first issue of We(l)come Back is excellent, and you should really add it to your pulls. Trust us on this. The Diamond order code is JUN151070).
Amanda and Rob also discuss:
Star Lord And Kitty Pryde #1 by written by Sam Humphries with art by and Alti Firmansyah, and:
The Punisher #20, written by Nathan Edmondson with art by Mitch Gerads!
And, the usual disclaimers:
We record this show live to tape, with minimal editing (Although in this case, we recorded and edited the interview before the rest of the show). While this might mean a looser comics podcast than you are used to, it also means that anything can happen. Like a discussion of the phrase "sentient fedora."
This show contains spoilers. While we try to shout out a warning ahead of time, be aware that a book titled The Punisher: Final Punishment might feature the Punisher's final punishment.
This show contains adult, profane language, and is therefore not safe for work. If you've read Christopher Sebela's work, you know that he knows some swear words. If you've listened to our show, you know that we arguably know a few more. Get some headphones.
Podcast: Play in new window | Download (Duration: 1:53:22 — 102.3MB)
Subscribe: Apple Podcasts | Android | Google Play | Stitcher | TuneIn | RSS | More
Thanks for listening, suckers!