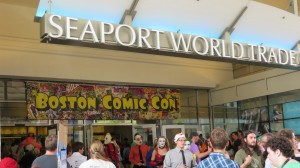 We just returned from three days attending Boston Comic Con, meaning that we have spent eight of our last 18 days walking the floor at various comic conventions. That is a physical feat that no one should ever attempt. Co-host Amanda is now on a course of serious painkillers, and Rob is  considering commissioning a Krazy-Straw long enough to allow him to drink beer without having to move at all.
But we survived, and spent some time this evening talking about the experience of Boston Comic Con on its journey from minor convention to regional powerhouse over the past few years, what worked and what could be made better, and the joys of arranging on-site art commissions from artists ranging from the gleefully professional to the simply brilliant and loose.
We also discussed:
The Superior Foes of Spider-Man #14, written by Nick Spencer with art by Steve Lieber and Rich Ellis, and
Kick-Ass 3 #8, written by Mark Millar with art by John Romita Jr. (as well as a discussion about the entire Kick-Ass saga and how well it worked)!
And now the disclaimers:
This show is recorded live to tape. While this means that the show might be a little looser than you are used to, it also means that anything can happen.
This show contains spoilers. Specifically, if you don't want to be spoiled on the events of The Superior Foes of Spider-Man or Kick-Ass 3, please tread lightly.
This show contains adult, explicit language, and is therefore not safe for work. Simon Bisley was able to swear at us with impunity during the convention due to the background noise. Your cubicle does not have that noise. Get some cans.
Podcast: Play in new window | Download (Duration: 1:27:34 — 72.1MB)
Subscribe: Apple Podcasts | Android | Google Play | Stitcher | TuneIn | RSS | More
Enjoy the show, suckers!