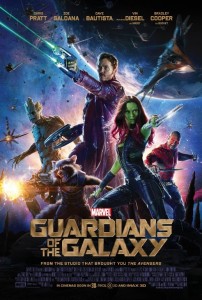 We have safely returned from San Diego Comic-Con 2014, so Amanda and I do a final postmortem of the experience… as we prepare to turn right back around to attend and cover Boston Comic Con next weekend.
We also discuss:
The new Guardians of The Galaxy movie and how it is one of Marvel Studios best… while still not being perfect,
Guardians of The Galaxy #17, written by Brian Michael Bendis with art by Nick Bradshaw and Michael Avon Oeming, and
Fatale #24, written by Ed Brubaker with art by Sean Phillips!
And now, the legalese:
This podcast is recorded live to tape. This might mean more pauses and rough spots than you might be used to in a comics podcast, but it also means that anything can happen.
This show contains spoilers. While we try to warn before dropping them, be aware that they might come at any time.
Amanda and I use adult, profane language, and therefore this show is not safe for work. Dr. Dre didn't spend 18 bucks on research and development for you to listen to podcasts on speakers.
As an aside, this episode is our first show as a member of the Comics Podcast Network. It's a cool site that features nothing but podcasts about comics and comic culture. We've found a few killer shows there that we like listening to, and we're excited to be joining their ranks. Check them out to find other viewpoints about our favorite hobby!
Podcast: Play in new window | Download (Duration: 1:38:19 — 80.3MB)
Subscribe: Apple Podcasts | Android | Google Play | Stitcher | TuneIn | RSS | More
Enjoy the show, suckers!