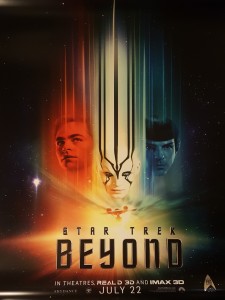 It is the final day of San Diego Comic-Con… which we were not able to attend. So, to make up for the fact that we were unable to report from the biggest comics event of the year, we distracted ourselves by catching up on some of the bigger recent announcements from the convention, and by seeing Star Trek Beyond, which is the third movie in the Bad Robot-produced reboot of the series, and not that fanfic movie that Universal Studios is suing like Rob thought it was until about three weeks ago.
It feels like the Star Trek franchise has lost some attention since J. J. Abrams left to direct a little indie film, and certainly our personal enthusiasms have been at different levels, as our relationships with the property have waxed and / or waned since our childhoods. And that differing excitement comes across as we discuss the movie: one of us finds it to be a fun popcorn flick with solid themes of making your own family, while the other thinks it has the crappiest Star Trek villain in 25 years and the worst film photography outside of an amusement park virtual reality attraction.
We also discuss:
Justice League #1, written by Bryan Hitch with art by Tony S. Daniel, and:
The Hellblazer #1, written by Simon Oliver with art by Moritat!
And the usual disclaimers:
This show contains spoilers. Numerically not as many spoilers as the actual Star Trek Beyond trailer, but if you want to avoid knowing plot points smaller than the destruction of the U.S.S. REDACTED, consider yourself warned.
This show contains adult, profane language, and is therefore not safe for work. We speak extensively about the sexual connotations of a clown suit on a mannequin. If you don't want those connotations read back to you during your annual performance review, get some earphones.
Note: During the show, we speculate that Star Trek Beyond director Justin Lin was scheduled to direct The Flash. That was incorrect. We were thinking of James Wan, who also directed one of the Fast and Furious movies. And who, it turns out, won't be directing The Flash.
Podcast: Play in new window | Download (Duration: 1:52:26 — 111.9MB)
Subscribe: Apple Podcasts | Android | Google Play | Stitcher | TuneIn | RSS | More
Thanks for listening, suckers!