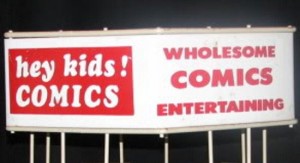 It has been a hectic week at the Crisis On Infinite Midlives Home Office, and combining that with a dearth of substantial comics news we'd be interested in discussing, it means that we're going old school this week.
That's right: on this week's episode of our comics podcast, we're going to discuss a bunch of this week's comics!
Here's what we've got in the pipeline:
Buffy The Vampire Slayer, Season 10 #18, written by Christos Gage with art by Rebekah Issacs,
Secret Six #5, written by Gail Simone with art by Dale Eaglesham and Tom Derenick,
The Amazing Spider-Man: Renew Your Vows #4, written by Dan Slott with art by Adam Kubert and Scott Hanna,
1872, written by Gerry Duggan with art by Nik Virella, and:
Loki: Agent of Asgard #17, written by Al Ewing with art by Lee Garbett!
And, the usual disclaimers:
We record this show with minimal editing. While this might mean a looser comics podcast than you are used to, it also means that anything can happen. Like learning why a "grunt" is poor open house etiquette.
This show contains spoilers. While we try to shout out warnings ahead of time, just assume that you will learn whether or not Spider-Man actually renews his vows (Not yet. Sorry.).
This show contains adult, profane language, and is therefore not safe for work. Seriously, you don't want your supervisor hearing that "grunt" thing. Get headphones.
Podcast: Play in new window | Download (Duration: 1:35:47 — 87.6MB)
Subscribe: Apple Podcasts | Android | Google Play | Stitcher | TuneIn | RSS | More
Thanks for listening, suckers!