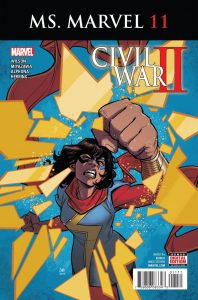 We are more than halfway through Marvel's Civil War II summer event, which, like most Marvel summer events, has dragged into the fall with no end before the darkest days of winter in sight. And while we previously have idly wondered how Marvel intends to deal with characters who are on the side of profiling and pre-crime, the event has really reached the point where, in order to keep the plot moving, characters like Captain Marvel and Black Panther are acting in truly reprehensible ways that will likely require rehabilitation on the level of Matt Fraction's reboot of Tony Stark's brain after the first Civil War.
And while there is no main Civil War II issue this week, there are several books that feature main pro-Predictive Justice players in the event doing horrible things that run the gamut from emotionally destroying adoring teenagers, to entrapment, to asking people if they are for or against you and placing those in the latter camp under arrest without even precognitive evidence. All of which makes Tony Stark's Civil War pro-registraton stance look like good, old-fashioned flag-waving New Deal patriotism.
So we discuss these books, including:
Ms. Marvel #11, written by G. Willow Wilson with art by Takashi Miyazawa and Adrian Alphona,
The Totally Awesome Hulk #10, written by Greg Pak with art by Mahmud Asrar, and :
Captain Marvel #9, written by Ruth Fletcher Gage and Christos Gage with art by Thomy Silas.
And we discuss not only what can be done to rehabilitate characters who are clearly meant to be on the wrong side of issues, but how the series maps to recent social justice events and causes in the news.
And, the disclaimers:
This show contains spoilers. While we try to give warnings ahead of time, if you don't want to know why the Canadian justice system is the most ruthless yet enticing in the world, consider yourself warned.
This show contains adult, profane language, and is therefore not safe for work. We did this show on a mix of beer, Sudafed and cough medicine, and we pride ourselves on our vocabularies even under adverse circumstances. Get some headphones.
Podcast: Play in new window | Download (Duration: 1:26:40 — 85.9MB)
Subscribe: Apple Podcasts | Android | Google Play | Stitcher | TuneIn | RSS | More
Thanks for listening, suckers!