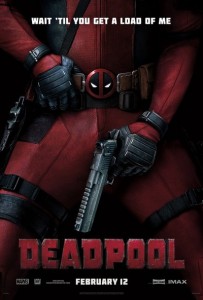 The cold snap in Boston broke enough for us to not only enter our studio without dying of hypothermia or being drowned out by the roar of our furnace, but to head out into the countryside to our local movie theater to see Deadpool.
Deadpool is a movie that shouldn't exist. It's based on a character with a lower Q Score than Irving Forbush, who debuted in arguably the worst superhero movie not starring Dolph Lundgren and Louis Gossett, Jr, starring a man who normally spells the end of comic book franchises. It's a movie produced and rated for adults, featuring at least three decapitations, two unfortunate prolapses, and one naked Morena Baccarin. And yet: 150 million American dollars in one weekend can't be wrong, so we break the movie down from the comic fan's perspective: what worked, what didn't, why Deadpool doesn't need an origin story, and why Rob desperately wants DC Films to put Ambush Bug on their schedule.
We also discuss:
Public Relations #5, written by Matthew Sturges and Dave Justus, with art by David Hahn and Jose Marzan, and:
Batman #49, written by Scott Snyder with art by Yanick Paquette!
And, some disclaimers:
This show contains spoilers. While we try to shout out warnings ahead of time, be aware that you might discover that Deadpool is a knockoff of Deathstroke The Terminator.
This show contains adult, profane language, and is therefore not safe for work. You think your boss would be more impressed with your performance if he heard about Amanda's first exposure to George Michael's I Want Your Sex? Then get some headphones.
Podcast: Play in new window | Download (Duration: 1:42:36 — 96.1MB)
Subscribe: Apple Podcasts | Android | Google Play | Stitcher | TuneIn | RSS | More
Thanks for listening, suckers!