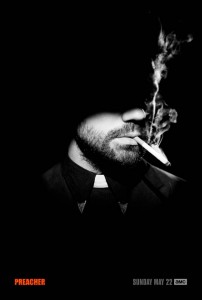 It's the end of the week of May 25th, 2016: the Wednesday the Big Two drooled on themselves, shrieked "Excelsior!" into the Black Void, and keeled over. At least if you believe the Internet comments.
But before we talk about that, there was one major positive for comics fans this week: AMC debuted the pilot episode of their adaptation of Garth Ennis's and Steve Dillon's Preacher this past Sunday. We're big fans of the comic, which really meant something to us… back when we were in our twenties, same as the characters back in the original 1990s comic. Both we and the comic are older now, with different lifestyles and priorities, so the question is not only whether or not Preacher is a worthy adaptation of the classic Vertigo comic, but can it have the same effect as it did when we were in our twenties?
That's the good news. The bad news is that we also discuss:
Steve Rogers: Captain America #1, written by Nick Spencer with art by Jesus Saiz, and:
DC Universe: Rebirth #1, written by Geoff Johns with art by, well, many, many people!
And, as always, the disclaimers:
This show contains spoilers. So be aware: if you haven't been spoiled on the events of either Steve Rogers: Captain America #1 or DC Universe: Rebirth #1, then you clearly haven't had any access to the Internet and therefore can't read this warning anyway. But rest assured: we'll be spoiling them.
This show contains adult, profane language, and is therefore not safe for work. We recite Preacher's recipe for making a homemade bazooka in this episode. You don't want your boss to hear that any more than we want this episode entered into evidence in a Felony Menacing trial. So get some headphones.
Podcast: Play in new window | Download (Duration: 1:48:36 — 106.2MB)
Subscribe: Apple Podcasts | Android | Google Play | Stitcher | TuneIn | RSS | More
Thanks for listening, suckers!