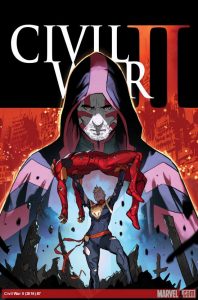 Last week was Thanksgiving in the United States, a holiday where family members travel for hours and miles to share a table with family members and take a moment to express gratitude for the good things in their life. Then they follow that moment with hours of barely-suppressed acrimony, sarcasm-dipped references to long-buried grievances, and barbed rejoinders about the political beliefs of family. They then disperse to Black Friday sales around the map, taking their frustrations out on fellow shoppers and leading to those awesome fight clips on YouTube.
Rob and Amanda did not go to any Black Friday sales. They did, however, read Civil War II #7, and they do have a comics podcast.
Due to vagaries of comics publishing (and the fact that Civil War II has been late almost since it was solicited), this week we not only discovered the result of the battle between Captain Marvel and Iron Man, but we began to learn the price that certain characters will apparently pay for their roles in suspending the Constitution, ignoring the First, Fourth, Fifth and Fourteenth Amendments, contributing to the deaths of at least three Avengers and arguably sending the Marvel Universe on the road to literal apocalypse.
And we found that price to be wanting.
So we spend a lot of time complaining bitterly about:
Civil War II #7, written by Brian Michael Bendis with art by David Marquez and Andrea Sorrentino,
Captain Marvel # 10, written by Ruth Fletcher Gage and Christos Gage with art by Thony Silas, and
The Ultimates 2 #1, written by Al Ewing with art by Travel Foreman.
But, since we can't be negative about everything, we also discuss:
Deathstroke #7, written by Priest with art by Larry Hama and Carlo Pagulayan,
Buffy The Vampire Slayer Season 11 #1, written by Christos Gage with art by Rebekah Issacs, and:
A. D.: After Death Book 1, written by Scott Snyder with art by Jeff Lemire!
And, the usual disclaimers:
This show contains spoilers. If you don't want to know what happens in Civil War II, just try to forget some of your biggest disappointments before reading it.
This show contains adult, profane language, and is therefore not safe for work. If you said to your mom what we say about Civil War Ii over the Thanksgiving table, you'd be disowned. So get yourself some headphones.
Podcast: Play in new window | Download (Duration: 1:14:08 — 73.4MB)
Subscribe: Apple Podcasts | Android | Google Play | Stitcher | TuneIn | RSS | More
Thanks for listening, suckers!