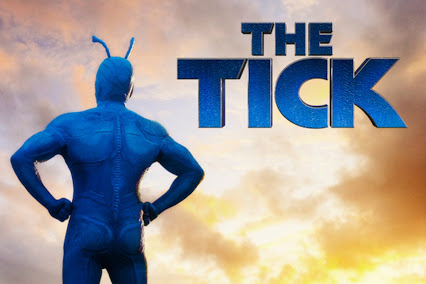 We're not gonna apologize here: we love The Tick. During the 1980s Rob was a regular customer of the Brockton, MA New England Comics retail store where The Tick was born, Amanda was a fan of the 1990s Fox cartoon that brought the character to national prominence, and we both enjoyed the Patrick Warburton live action show from back in the day when your live action TV superhero choices were The Tick, Smallville or (God help us) Black Scorpion.
So we were excited when Amazon Prime video announced that part of their 2016 comedy pilot season would be a new, live action version of The Tick. And as fans of the character from the days he was a Daredevil parody through his more silly Saturday morning cartoon adventures, we were excited to see the character back in live action… but we really weren't expecting what we got from the show. It's a much darker, more psychological take on the character than we've seen maybe since the first few Ben Edlund issues of the comic book, and yet still pretty funny. And we had a lot of fun talking about it, on its own merits and in comparison with earlier versions of the character.
What's that? You don't have an Amazon Prime membership and you want to see the episode we're talking about? Well, you can see it for free on your computer, and even find a link to a survey where you can give Amazon your feedback on the show.
We also discuss:
Kingsway West #1, written by Greg Pak with art by Mirko Colak,
Civil War II: Ulysses #1, written by Al Ewing with art by Karl Kesel, and:
Detective Comics #939, written by James Tynion IV with art by Eddy Barrows and Eber Ferreira!
And, as usual, the disclaimers:
This show contains spoilers. If you don't want to know whether Warren Ellis fan Al Ewing spends more time developing the character of Warren Ellis's Karnak or Brian Michael Bendis's Ulysses, consider yourself officially warned. You don't need to be warned, but you are.
This show contains adult, profane language, and is therefore not safe for work. Let's just say that, "Spoon!" is not the strongest word we shout during the show. Consider ear buds.
Podcast: Play in new window | Download (Duration: 1:26:28 — 83.7MB)
Subscribe: Apple Podcasts | Android | Google Play | Stitcher | TuneIn | RSS | More
Thanks for listening, suckers!