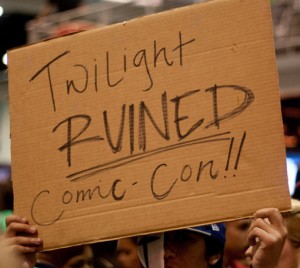 It is Sunday, which means another episode of the Crisis On Infinite Midlives Podcast! This one recorded after the depths of a sugar coma!
In this episode, we discuss:
The recent Slate article by Ruth Graham condemning young adult literature as being something adults should be ashamed to read… and which pretty much out-and-out condemns genre YA fiction as "transparently trashy stuff"

During the conversation, we reference a novel called Submergence, by J. M. Ledgard
Further during the conversation, I maintain that David Foster Wallace's Infinite Jest is a genre sci-fi novel. This may anger those who like to haul their copies around college coffee houses in an effort to look smart and try to score coed tail, but I am not the only one who thinks so.

MTV's announcement of the MTVu Fan Awards during the 2014 San Diego Comic-Con, MTV's genre and comics cred (which they utterly ignore in the announcement of said event), and whether Linkin Park is the right band to play SDCC when Anthrax (who did a song about Judge Dredd) will be right around the corner
Original Sin #3, written by Jason Aaron with art by Mike Deodato, and
Big Trouble In Little China #1, written by The Goon's Eric Powell with art by Brian Churilla!
And, as usual, our disclaimers:
This show is recorded live to tape with no editing, and as such may contain more pregnant pauses, looping logic, repeated assertions, and references to "Diarrhea Island" than you are accustomed to in a comics / pop culture podcast
This show contains spoilers. We make an effort to announce them ahead of time, but as to whether we are successful, well, see the point about "no editing." Be particularly careful when it comes to our discussion of Original Sin #3.
This show contains adult, profane language, and is not safe for work. While I might personally think Beats By Dre are an abominable waste of money, I will ignore their use in the listening of this show.
Podcast: Play in new window | Download (Duration: 1:07:01 — 61.4MB)
Subscribe: Apple Podcasts | Android | Google Play | Stitcher | TuneIn | RSS | More
Enjoy the show, suckers!