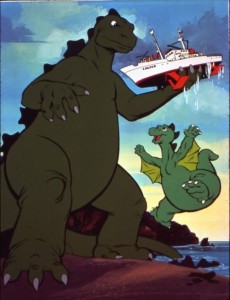 It is Sunday, which means it's time for another episode of the Crisis On Infinite Midlives Show, or as we like to call it: that thing we do as an excuse to not write for one day so we can devote more time to drinking whiskey, watching Game of Thrones, and babying the Crisis On Infinite Midlives Home Office Mascot, Parker The Kitten.
On today's show, we tackle:
Godzilla! We went into it thinking it would be a movie filled with Walter White battling a giant lizard, walked out of it thinking it was a pretty enjoyable reboot of the property… and then we talked about it. And sometimes, that's the worst thing you can do to a movie…
Wild-assed and variant covers – Marvel announced this week that the covers of each issue of The Death of Wolverine would be something called "Weapon Etched Holo Foil," and DC is planning to release their Futures End (Mistakenly called Five Years Later in the show) September one-shots with another series of 3D covers. As a couple of people who lived through variant covers and how they helped kill comics in the mid-90s, we don't have a lot to add about it, but man do we like to complain about them.
Batgirl #31, written by Gail Simone with art by Fernando Pasarin
The United States of Murder Inc., written by Brian Michael Bendis with art by Michael Avon Oeming
The Walking Dead #127, written by Robert Kirkman with art by Charlie Adlard, and:
Cat nutrition, or: taking care of a stray animal for only $47 a day
And one show note for the week:
The Island of The Mushroom People is an actual movie, actually called Attack of The Mushroom People in America and Matango in its native Japan. I wish I was making that up.
And, our usual semi-legalese:
This show was recorded live to tape, meaning that you might hear more than the normal number of "ums", pregnant pauses, and references to Bukkake
This show contains adult, profane language, and is not safe for work. That line just above about references to Bukkake? I didn't pull that out of my ass. Be smart: listen with headphones.
Podcast: Play in new window | Download (Duration: 1:19:41 — 73.0MB)
Subscribe: Apple Podcasts | Android | Google Play | Stitcher | TuneIn | RSS | More
Enjoy the show, suckers!