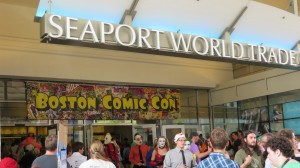 The ninth annual Boston Comic Con – and the first one where Saturday sold out by Friday evening – concluded just a few hours ago. And despite being arguably the biggest Boston Comic Con to date, it also was one of the smoothest, with issues surrounding getting into the venue and into panels, that plagued the convention in prior years, all mercifully absent and apparently solved.
But the one problem that no convention of any size has been able to solve is exhaustion – after three days on the floor, we are wiped out. So despite the fact that our door-to-door travel time was twenty minutes, we are weakly sipping drinks, surrounded by loot from the convention and God knows how many hours of raw, uncut panel recordings, racing against fatigue hysteria.
But we wanted to take a few minutes to hook up our mobile recording studio one more time to put together a quick show to discuss the convention, what parts of it worked, which parts need improvement, why smaller regional conventions can be better than the megacons… and one completely new experience. That experience being that, after ten years of attending conventions of all sizes, this was the first time that we stood in a paid autograph line. To meet Stan Lee. And how the experience was pretty much what we expected, and why we will probably never, ever do it again.
Note: We currently plan to have a more detailed convention report, including panel audio, by Thursday, August 6th.
And now the disclaimers:
This show was recorded live to tape. While this might mean a looser comics podcast than you are used to, it also means that anything can happen.
Due to limitations in our content delivery system, this show was recorded at a lower-than-normal bitrate. So you might notice minor differences in sound quality than other episodes.
This show contains adult, profane language, and is therefore not safe for work. You want your employer to hear what kind of filthy animals who might buy Rob's Stan Lee autograph? Trust us: you do not. Get some headphones.
Podcast: Play in new window | Download (Duration: 32:36 — 22.4MB)
Subscribe: Apple Podcasts | Android | Google Play | Stitcher | TuneIn | RSS | More
Thanks for listening, suckers!