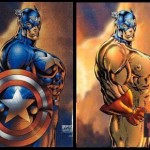 We here at Crisis On Infinite Midlives finally kicked the cold and got healthy! And then we celebrated with cheap liquor and got sick a different way, so once again, here we are, a day late and a dollar… where's our f***ing dollar!?
In this week's episode, we drool over the new trailer for the Avengers movie, we thank DC Comics for announcing that they'll be selling comics on the Amazon Kindle Fire (When we bought a f***ing Barnes & Noble Nook Color six months ago) by speculating which New 52 book will be canceled first (and which should be canceled first), and talk about our sleeper books of the week!
In addition:
Podcast: Play in new window | Download (Duration: 45:57 — 42.1MB)
Subscribe: Apple Podcasts | Android | Google Play | Stitcher | TuneIn | RSS | More
Enjoy the show, suckers! And if you don't, we'll show you what happens when you Google "Liefeld Mantits No Seriously Just Liefeld's Mantits"!