Subscribe To The Podcast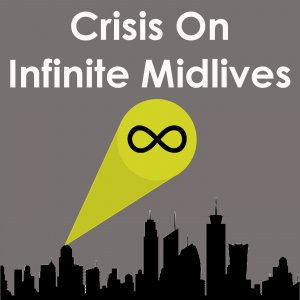 Q: Hey, I haven't been by the site for a while. I come back, and… what the fuck is this? What the hell happened? Did you quit?
A: Hell, no! We've just changed our focus to our weekly podcast, The Crisis On Infinite Midlives Show. Every Sunday, Amanda and I (and the occasional guests) talk about a couple of recent comic / genre / geek related topics, and review a few of the week's comic books we really liked (or desperately hated)! Plus, we tell as many filthy jokes along the way as the law will allow!
Q: That sounds pertinent to my interests, as I have a long commute / strenuous workout / extended stretch in solitary confinement I need to kill! How can I obtain this show?
A: How can't you get it? Let's count the ways! You can:
Navigate to our Podcast category to listen to shows directly through your browser!
Subscribe directly to our Podcast RSS feed with the podcast aggregator of your choosing to download shows the instant they go live!
Find us on iTunes! Or, if you already have iTunes installed on whatever machine you're reading this on, you can fire it up and subscribe directly!
Like to listen to podcasts on an Android phone or tablet? Well, you can subscribe, load, and follow our feed using the podcasting app of your choice, with just a single click!
Use the TuneIn app to check out live radio? Well, you can pick us up on TuneIn right here.
If you have a Windows Phone or a Zune, congratulations on your adventurous, iconoclastic spirit! You can find us on your device's app store.
You say you like to get your podcasts the way you find you can't delete your bloatware from your subsidized Verizon smartphone: Google Play? Say no more!
Do you have Stitcher in your phone / tablet / car / smart TV / recurring dreams involving your mom and the midget from Twin Peaks? You can find us there, too!
If you use the Miro media player (think iTunes for people who hate Apple), you can subscribe here (and if you don't, that link should give you some info on how to get the player).
If you're a hardcore fan of podcasting and get your fix via Blubrry, you can find our episodes here.

We are also proud members of the Comics Podcast Network. It's a Web site that aggregates nothing but podcasts about comics and comic-related topics. I've spent a bunch of time there, and have found a ton of interesting, entertaining, and well-produced shows about comics that I like listening to. And while their inclusion of our show is a sign that their standards must be slipping, it's still the best resource we've found for shows about our favorite hobby. Seriously: you can spend hours browsing through great shows there. Go check it out.
As we add ways to find the show, we'll put them up here. If you've got a favorite way to get your podcasts, let us know in the comments and we'll look into getting us into that avenue.
So thanks for checking out our show, and please feel free to leave comments here, or to leave reviews and rating on whatever third-party service you choose to get your hands on the show.