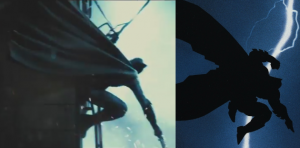 San Diego Comic-Con was this week, and for the first time in nine years, we were not there. And not being at SDCC is a weird experience for us, so we spend a little time talking about how technology like Twitter and YouTube have made it possible to learn most of the big, important news from the show floor, while not in any way reproducing the little experiences that you can only get straight from the scene. Like being accosted by evangelicals, or getting intoxicated on local beers. Sometimes at the same time.
However, we did have our own personal lifeline to the show floor: Los Angeles comedian Gariana Abeyta, who guested on our favorite SDCC 2014 episode, and who managed to snag four-day passes to this year's convention. Gariana was good enough to call into the show this morning, and it is a short glimpse not only into some hard news about some Hall H events, but into how the mind starts to go after four days of non-stop spectacle.
One of the big items to come from Comic-Con was the first full Batman V Superman: Dawn of Justice trailer, which was officially released just hours after the Warner Bros. panel. And Amanda and I spend some time breaking it down, discussing the implied backstory of Batman (including the fate of at least one Robin), Superman's questionable upbringing, and Lex Luthor's terrible, terrible Kip Winger-pelt toupee.
We also discuss: Civil War #1, written by Charles Soule, with art by Leinil Francis Yu!
And, as usual, the disclaimers:
We record this show live to tape, with minimal editing (although this episode, we cut Gariana's call in from an earlier recording). While this might mean a looser comics podcast than you are used to, it also means that anything can happen. Like figuring out where Superman likes to whip out his Codex.
This show contains spoilers. While we try to shout out warnings ahead of time, you should assume that we will ruin the fact that in Civil War, what we've got here is a failure to communicate.
This show contains adult, profane language, and is therefore not safe for work. Unless you want your employer to learn the word that we've decided will keep us from mainstream fame and fortune, you should get some headphones.
And, in case you missed it, here's that SDCC 2015 Batman V Superman: Dawn of Justice trailer:
Podcast: Play in new window | Download (Duration: 2:04:01 — 113.0MB)
Subscribe: Apple Podcasts | Android | Google Play | Stitcher | TuneIn | RSS | More
Thanks for listening, suckers!