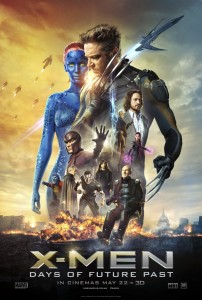 It's Sunday, and even though it's the long Memorial Day weekend here in the States, it's still time for another episode of the Crisis On Infinite Midlives Show!
In this week's episode we talk about:
X-Men: Days of Future Past! We discuss how much we enjoyed the movie, some of the cooler moments in the flick, but most importantly: we try and take apart where the film fits into the X-Men movie franchise continuity, and whether or not any of the other movies can even exist with this one stuck at the end!
The recently announced title Batman V Superman: Dawn of Justice! We talk about why the title makes sense, how a desire to make The Dark Knight Returns might have led to decisions director Zack Snyder made in Man of Steel, and how this title could have come directly from the name of one of our earlier podcasts!
Forever Evil #7, by Geoff Johns and David Finch
MPH #1, by Mark Millar and Duncan Fegredo
Original Sin #2, by Jason Aaron and Mike Deodato, and:
Why if 3D movies are bad, falling asleep during an IMAX 3D showing of Godzilla is worse (spoiler alert: it involves waking up to Godzilla shrieking at you through 100 subwoofers.
And now the legalese:
This podcast uses adult, vulgar language, and is not safe for work. This week's hook joke is about penis tinting, and things really go downhill from there. Wear headphones. You are warned.
This show was recorded live to tape, and may contain awkward pauses, the use of the word "f**k" as a comma, and truly vile humor that any reasonable show would edit out.
This show is chock-full of spoilers. We try to warn you ahead of time, but there's no getting around it: we are ruiners.
Podcast: Play in new window | Download (Duration: 1:09:02 — 63.2MB)
Subscribe: Apple Podcasts | Android | Google Play | Stitcher | TuneIn | RSS | More
Enjoy the show, suckers!