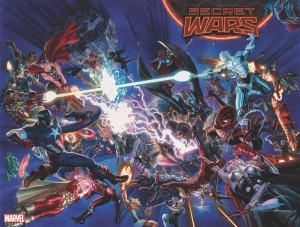 It's been three months since Marvel announced the Secret Wars crossover event, and since then, speculation has been flying about what it meant for the Marvel Universe: would it be a reboot, or just an event allowing Marvel characters from all their various universes to punch on each other for a few months?
Well, Marvel's Senior Vice President and Executive Editor Tom Brevoort and Editor-In-Chief Axel Alonso did a press conference about Secret Wars this week, and it turns out the answer is: both!
So this week, we spend a lot of time poring over audio from that press conference, first trying to figure out if this reboot was planned before or after Alonso famously denied that Marvel was planning a reboot. We also discuss whether and what we'll miss from the Ultimate Universe, what we want to see written out of Marvel continuity, and what we think is absolutely sacrosanct. Further, when it comes to Secret Wars itself, we talk about Battleworld, what battles we want to see between characters and universes, and ultimately, whether or not we're excited by the idea of a Crisis On Infinite Earths-style reboot of Stan and Jack's Marvel Universe.
We also discuss:
The Amazing Spider-Man #13, written by Dan Slott with art by Giuseppe Camuncoli, and:
Powers #1, written by Brian Michael Bendis with art by Michael Avon Oeming!
And now, the disclaimers:
We record this show live to tape. While this might mean this is a looser comics podcast than you might be used to, it also means that anything can happen. Like discussions over whether we want to start a Kickstarter to fund the purchase of a Crisis On Infinite Midlives Kill-Bot.
This show contains spoilers. While we try to shout out warnings ahead of time, just assume that we've ruined the end of Spider-Verse for you.
This show contains adult, profane language, and therefore is not safe for work. Unless you want your employer finding out what body part we want to use to trigger the machines guns on our Kill-Bot, get some headphones.
Podcast: Play in new window | Download (Duration: 2:00:54 — 110.9MB)
Subscribe: Apple Podcasts | Android | Google Play | Stitcher | TuneIn | RSS | More
Enjoy the show, suckers!