on
December 4, 2013
at
9:47 pm
So the big mainstream comic news today is that someone named Gal Godot has been cast as Wonder Woman in the upcoming Zack Snyder-directed sequel to Man of Steel, Batman Vs. Superman (or whatever it will wind up being called). Godot was an Israeli Miss Universe contestant who turned model while turning Israeli soldier before going full Fast And Furious for a few movies and finally landing the role of Princess Diana.
Which is fine and which is good, because God knows that its about time that the final remaining leg of DC Comics's Big Trinity gets an actual movie role… except it is potential terrible news for actual comic fans. Not because of the casting – I have no idea if Godot can or cannot act – but because of Wonder Woman's role in a movie that Snyder announced at this year's San Diego Comic-Con with a quote from Frank Miller's The Dark Knight Returns.
Because if Snyder intends for his next movie to even remotely follow Miller's Dark Knight plot, well, Diana's first appearance is in The Dark Knight Strikes Again, and it is only pretty much to fuck Superman stupid somewhere up in the sky ("It's a bird! It's a plane! No, it's… a bird. Or at least something the color and general viscosity of bird poop just hit me in the eye. Bird poop that smells like bleach.") somewhere between superhero wanna-bes and Dick Grayson being, well, a dick. It's not a good move for the Wonder Woman brand, is what I'm saying.
But that is movie news. Which is well and good, but it is, after all, Wednesday. Which means that there are new comics, and no matter whether the movie version of Wonder Woman is a sky-fucking skank or a Mossad secret agent, it means that this…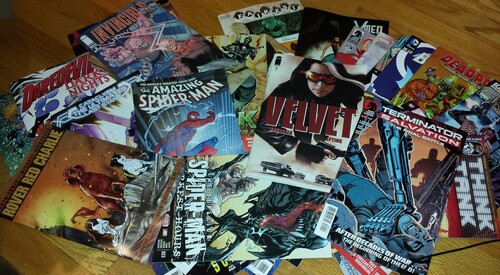 …means the end of our broadcast day.
But there are some good looking books there, huh? There's the first J. Michael Straczynski issue of Terminator: Salvation, the latest issue of The Superior Spider-Man, the latest issue of Think Tank (which really is the best comic book you're probably not reading), another issue of Marvel's Ultimate Universe Cataclysm event, and a bunch of other stuff.
But you know how these things go: before we can talk about any of them, we need time to read them. So while we do that…
…see you tomorrow, suckers!